Why choose Light and Land?
26 years in business, with a master at the helm! You're in safe hands!
EXPERIENCE
We've run over 1000 tours worldwide over 26 years
Satisfied customers - we have a 93% repeat booking rate
We only employ the BEST landscape photographers who have experience and passion
Our Dorset-based office staff Emily and Katy are friendly and able to deal with your enquiries - we love a chat so you can call a real person with your questions!
We do not charge a single supplement like so many other tour companies
TRUST
We are part of The Association of Bonded Travel Organisers Trust Limited (ABTOT), this provides financial protection under The Package Travel and Linked Travel Arrangements Regulations 2018. So you can be confident your deposit and payments are protected.
We are a member of AITO (Association of Independent Tour Operators) Read more...
We have a 95% 5* Feefo success rating - we love hearing from happy photographers!
RESPONSIBLE
We take responsibility fo our carbon footprint and offset our carbon emissions annually
Charlie Waite the co-founder is recognised as one of the world's leading landscape photographers.
Find out more information about Charlie here
From worldwide tours to one day workshops
Our mission is not simply to improve your photography skills and make sure you have a great time whilst you're with us, but also to pass on our enthusiasm and inspire you to reach new creative heights. From complete beginners to professionals, we cater for all abilities.
What to expect from a Light and Land tour:
Experience and expertise from the UK's leading landscape photographers, on hand 24-7 to help and guide you
Expert inside knowledge of the best locations, viewpoints and lighting conditions
A flexible approach that offers as much or as little attention as you require
Constructive post-shoot critique and advice sessions, whenever possible
We can educate and inspire you so you go away brimming with ideas and confidence in your photography
The opportunity to meet and exchange ideas with like-minded enthusiasts
Always staying at warm and friendly hotels with excellent facilities
With almost 25 years experience leading over 1000 tours around the world, we can offer you endless photographic possibilities.
We have many of the UK's finest photography tutors including Charlie Waite, Joe Cornish, Antony Spencer, Phil Malpas, Clive Minnitt, Sue Bishop, Paul Sanders and many more exceptional landscape photographers with a huge range of knowledge.
What do you need?
You need only bring your camera and an open mind.
We will provide you with the knowledge, the views and the techniques for making the most of the light.
You are the absolute priority and will not be left to fend for yourself, our leaders will be on hand to give you as much or as little personal attention as you would like.
We want you to go home from one of our tours or workshops feeling that you have been to some fantastic places, met some great people and had a fabulous time - but also most importantly, that you have learnt something new and feel confidence in your abilities as a photographer.
Our repeat business figures speak for themselves
93% of clients book again
Over 200 clients have travelled with us more than four times and one intrepid client has travelled with us over 50 times!
To find out more please have a look at our Testimonials page.
Light and Land, the environment and responsible travel
Here at Light and Land, we recognise our obligation to operate our photography tours in a responsible and sustainable way. We view this not only as an environmental issue but an economic and social one as well. We are committed to giving back to this world we share with so many others and take our responsibility in doing so very seriously.
The following are the key points in our responsible travel philosophy:
Carbon offsetting - we donate a percentage of EVERY booking on one of our tours or workshops to Solar Aid, a carbon offestting charity.
Our photography tour leaders donate 1% of their fees to Solar Aid to offset carbon footprint.
Small groups have less impact on local communities and environments.
We respect the environment and leave no trace or footprint.
We make and share photographs that highlight issues affecting the natural world.
Where possible we believe in putting money directly into the communities we visit by using locally owned and run accommodation and eating locally produced food.
We ensure that local staff receive a fair rate for their services.
We are creating more workshops based in the UK to reduce the need for air travel.
Meet the Team
We're a small but extremely warm and helpful bunch here at Light and Land HQ, based in the beautiful countryside of North Dorset. Our aim is always to put you first and inspire you to improve your photography skills, whatever your level. If you're passing this way do stop by for a cuppa.
ABTOT Protected
The Association of Bonded Travel Organisers Trust Limited (ABTOT) provides financial protection under The Package Travel and Linked Travel Arrangements Regulations 2018 for Light and Land Ltd, and in the event of their insolvency, protection is provided for the following:
1.non-flight packages and
2. flight inclusive packages that commence outside of the EU, which are sold to customers outside of the EU.
ABTOT cover provides for a refund in the event you have not yet travelled or repatriation if you are abroad. Please note that bookings made outside the EU are only protected by ABTOT when purchased directly with Light and Land Ltd.
In the unlikely event that you require assistance whilst abroad due to our financial failure, please call our 24/7 helpline on 01702 811397 and advise you are a customer of an ABTOT protected travel company.
You can access the The Package Travel and Linked Travel Arrangements Regulations 2018 here: https://www.legislation.gov.uk/uksi/2018/634/contents/made
AITO Member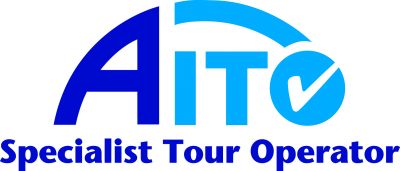 Light and Land is also a member of the Association of Independent Tour Operators (AITO). We adhere to the AITO Quality Charter. Visit website.