Almond blossom in Andalucia
19th September 2016
Andalucia is arguably the most exotic and stunning region in all of Spain. With its remarkable architecture and breathtaking landscape the region has evolved into a wonderful amalgam of Moorish culture and recent Spanish tradition.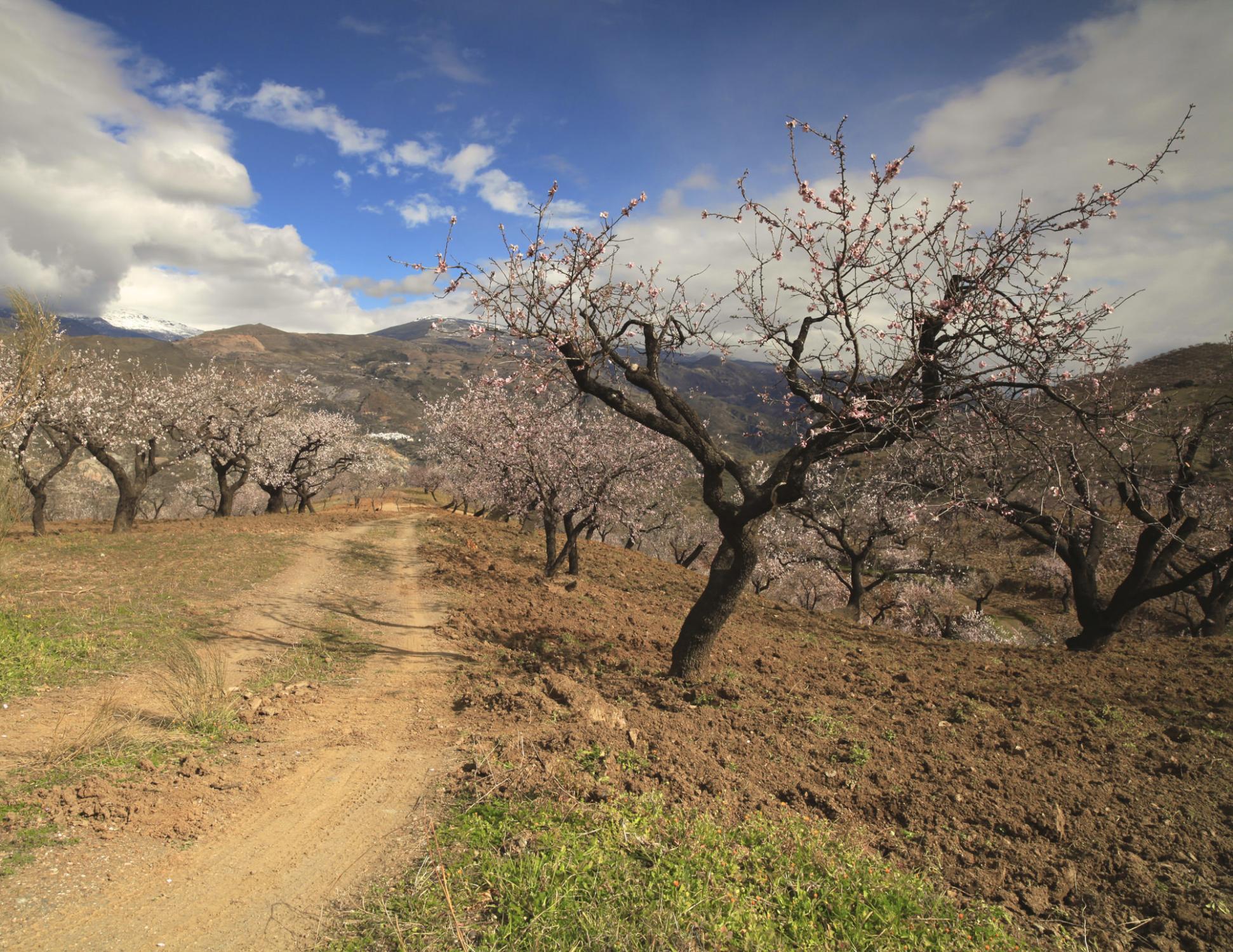 This is the southernmost region of Spain. Less than 200 kilometers away lies Africa – little wonder that the Moors invaded and swept across Andalucia. These remarkable people left behind some of the finest architectural examples of their refined culture. Andalucia stretches from Huelva in the west to the Sierra de Los Filabres and Lorca in the East. Many regard Granada and the fabulous high Sierra Nevada (standing at 3,482 metres) as the hub of this astonishing region. The first view of the Sierra Nevada; a majestic hunched, spine of rock glistening with its mantle of snow in very early spring is a memory that abides for ever. The mountains seem to proudly guard the illustrious and beautiful city of Granada. Directly behind the great hulk of the Sierra Nevada lie the fertile hills and valleys of Las Alpujarras.
It is within the magnificent Alpujarras, that around St Valentines day becomes clothed in a sea of pale pink blossom as hundreds of thousands of almond trees burst into life with a truly memorable show that can be seen from many kilometres away.
Being in the midst of the Alpujarras, it is inevitable that we will discover that pink blossom has featured in very many of our images. It is hoped that early spring flowers will have emerged to complement the soft pink and it is very probable that we will visit and photograph pathways flanked with almond trees leading perhaps to plantations offering more regimented almond avenues.
We could not leave the ravishing acres of pink without seeing and photographing the jewel in Granada's crown; the great Moorish palace, the formidable Alhambra.
The interior of the Alhambra is mesmerizing; with intricately carved domed ceilings and arches offering wonderful opportunities for close up detail images of this stunning workmanship.
But this landscape photography tour is essentially for the ubiquitous almond blossom and the images that we make will be our prize and will express our sense of wonder that such beauty could be found in the almond tree presenting itself in it's finest performance.
Here are some reviews of our leader for this tour, Peter Hendrie;
"Peter is a gifted tutor and his easy manner belies his great talent and depth of knowledge. He is constantly moving from one photographer to another, whether a beginner or advanced, helping them to obtain the very best from the scene in front of them. He became more than that though - to me, he became a very good friend."
"Peter aimed to give each of us the individual attention we needed. Unlike some tour leaders (not L and L ones!) he rarely took pictures of his own until he was satisfied we were all happy. He was enthusiastic, helpful and motivating. A really good experience."
"Peter was very committed to getting the most out of the tour and the locations. He worked very hard throughout long days to ensure the trip was a success."
There are a few spaces remaining on this one for early February .... Go on treat yourself!!! see our site here