BBC's Julia Bradbury Presents the UK Landscape Photographer of The Year Awards 2016
22nd November 2016
On Monday 21st November 2016, our founder Charlie Waite opened the 10th Annual Take A View Landscape Photographer of The Year 2016 exhibition at Waterloo Station. The mezzanine at Waterloo will play host to a selection of the winning images in a free exhibition which will run until February 2017 before touring other selected stations around the UK.
Awards were given out to the top prize winners at the opening by the BBC Presenter and Author Julia Bradbury who was thrilled to be part of this celebration of the UK's landscapes. The event is run with the support of Visit Britain, Network Rail and The Sunday Times.
Matthew Cattell won the overall winner for his 'Starling Vortex' captured at Brighton- well done Matthew, we love this image !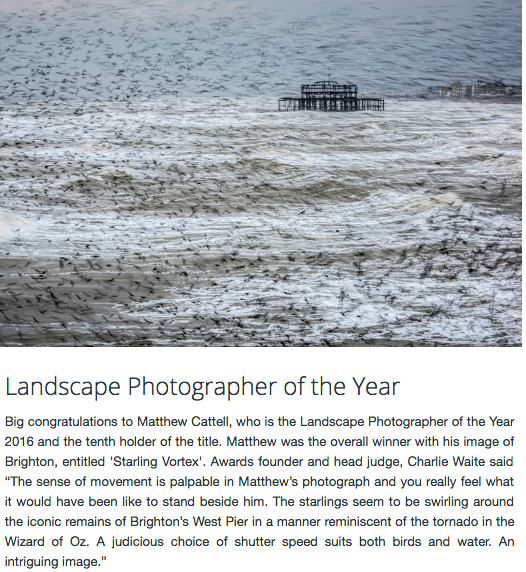 For more details about the winning images please see the Take A View Website or to order a copy of the book 'Collection 10' by AA Publishing please follow this link