Benvenuti a Cinque Terre! Five lands of exceptional ice cream, wine and photography locations…
19th May 2017
Jenna Guy, Light and Land's UK Workshop Manager recently joined our tour of Cinque Terre, led by Carla Regler.
Read more about her trip here....
I arrived in Italy on 'auto', an official photography novice, having had my camera for just two months and not really knowing how to use it or what it was capable of. I had pretty low expectations of how my photographs would look but looked forward to sunshine, socialising and perhaps an ice cream or two. However I came home with lots of photos I was happy with and so suprised as to what I had captured on my little compact camera - a Lumix TZ60.
Day One.
We met at arrivals in Pisa airport, our group consisted of 3 ladies, a gentleman, myself and our leader Carla. Our private transfer was a luxurious new Mercedes with a charming, chatty driver who was full of interesting facts about the areas we were driving through. Before I knew it we had arrived in Cinque Terre, a warm welcome awaited us at the Hotel Villa Steno in Monterosso al Mare. Matteo (the owner) and his wonderful team were superb for the entire stay and nothing was too much trouble. Once we had settled in we met for a coffee. We got to know each other a little, discussed which cameras we all used and generally what we hoped to get from the trip before heading out for our first shoot.
We hopped onto the train (as there are no cars in the Cinque Terre villages - bliss!) to Manarola where we set up for our first sunset of the trip. Like most people I love sunset but had never stayed in the same spot and watched the light change so much. Firstly I put my camera into manual and learned how to set up the aperture and ISO settings to work with the light at every stage. It was at this moment that I think I caught the photography bug!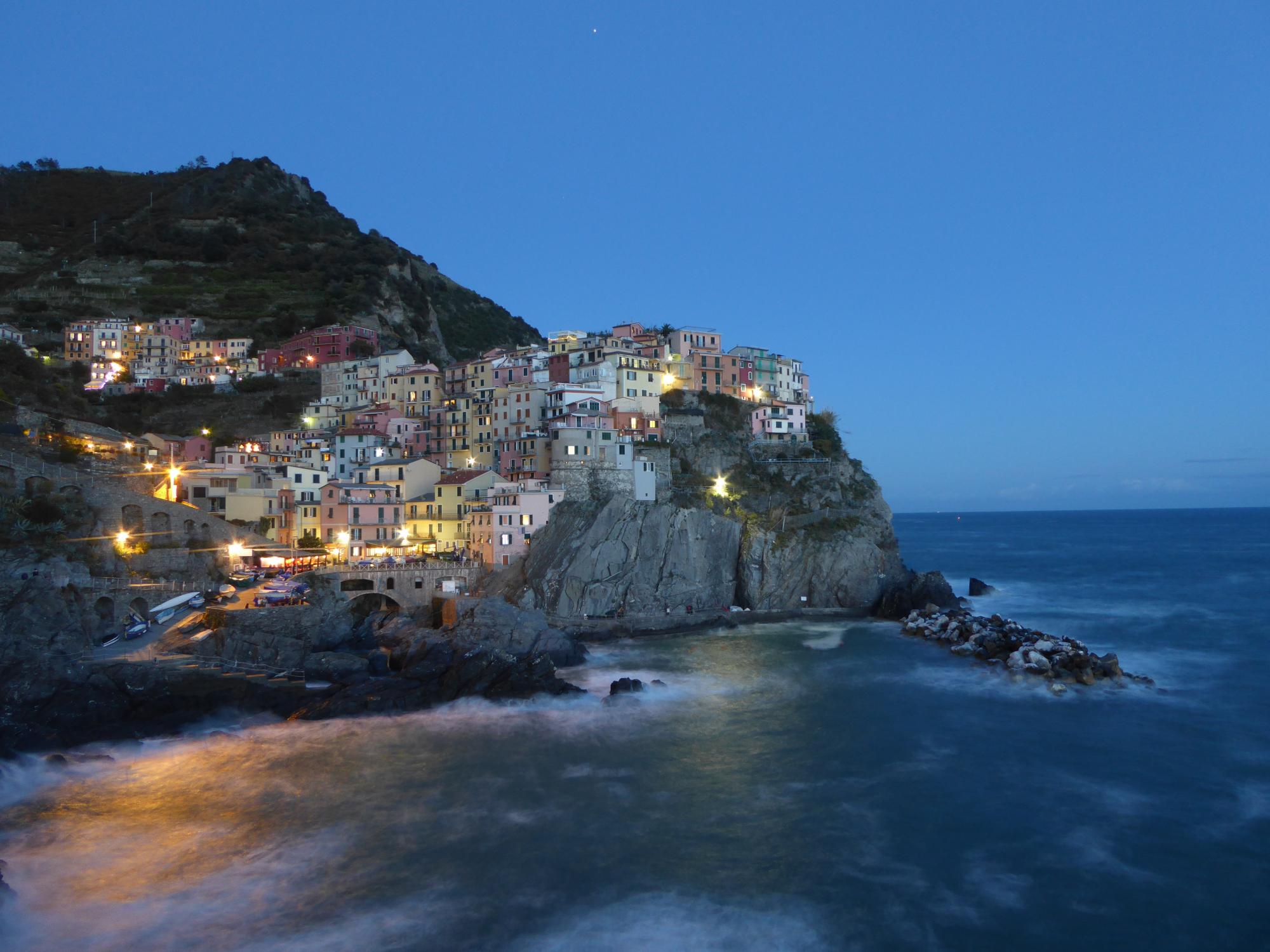 Day Two
I woke up woke up raring to go. After a lovely breakfast we set off to Corniglia which was fantastic. We tried out a totally different style of photography as we wandered the narrow streets and I saw more interesting things to capture, beautiful hidden gardens, lemons on the trees, ornate gates and doors and colourful tiles of the roofs and discovered how well my zoom worked on my camera and just how much fun street photography can be.
Day Three
This was a real turning point. I found myself seeing things differently and no longer needed Carla to show me what I should be taking pictures of. I think I found my style, what I liked and importantly what suited my camera. My little lense was never going to be able to capture the big, wide landscapes but the zoom more than made up for it and as I discovered my obsession with doors (I'm sure a psychologist would have something to say about that!). Without doubt it really is the perfect camera for me.
After a fab day out we came back to the hotel. A glass of the local wine went down a treat and the delightful hotel staff brought out some nibbles to accompany our drinks, having eaten early we were all a little peckish so this was perfect! It was great to chat and get to know everyone better. Everyone of us came from such a diverse range of jobs, backgrounds and parts of the country- I enjoyed hearing about each and everyone of our group.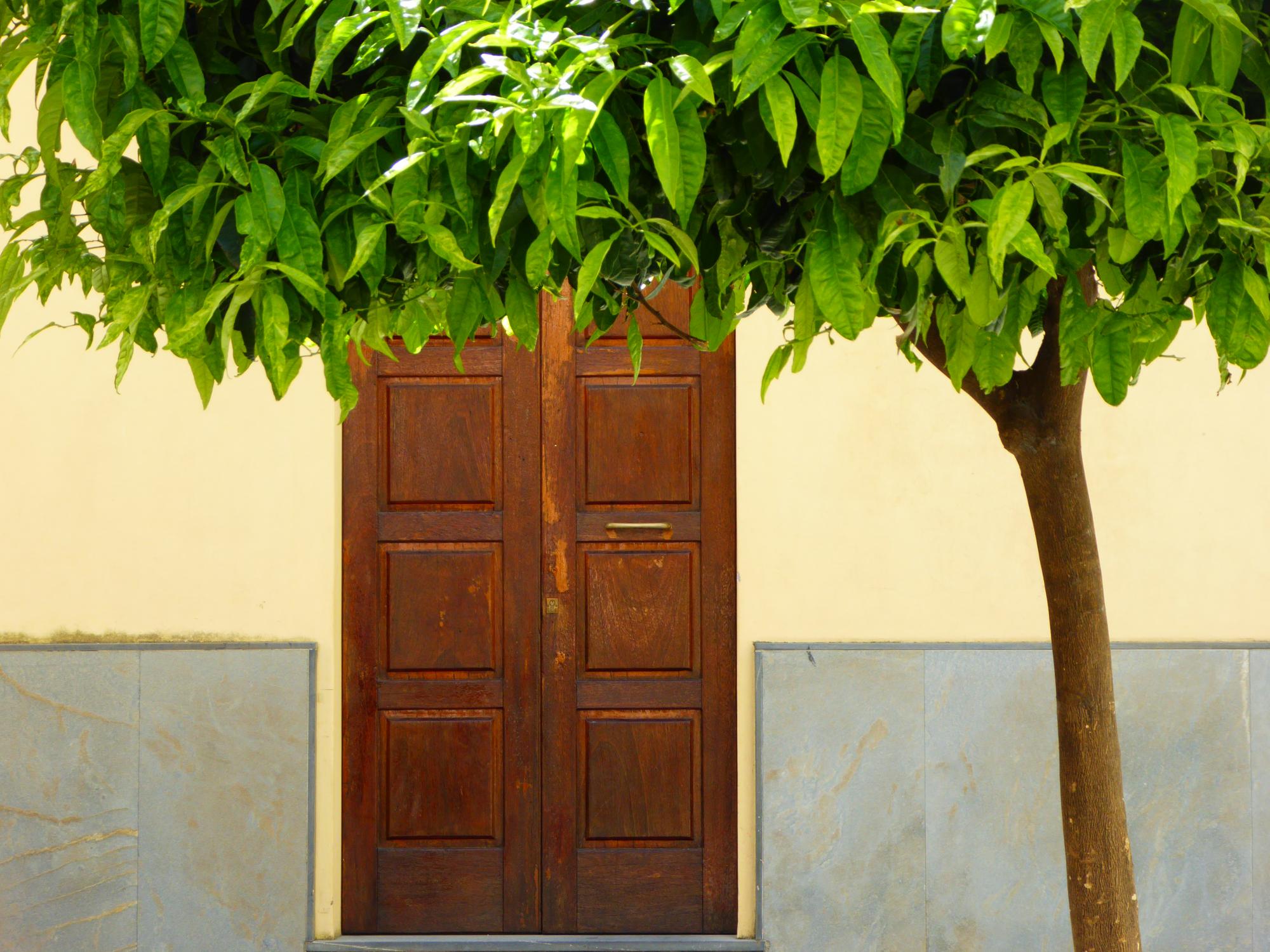 Day Four
After another fantastic breakfast at Hotel Villa Steno we spent the day in our base town of Monterosso al Mare. I mostly concentrated on my new found love of street photography as well as getting round the highlights of the town which include an iconic rock on the beach which Light and Lander Sue became so fond of. The weather report for the evening was not great so we decided to stay close to 'base' on this occasion and after taking our group photo at 'Sue's rock' we had a superb dinner - locally made pesto with gnocchi which was delicious. If we return next year we have been invited by Matteo's mother to see how the pesto is made. I think that alone is worth returning for!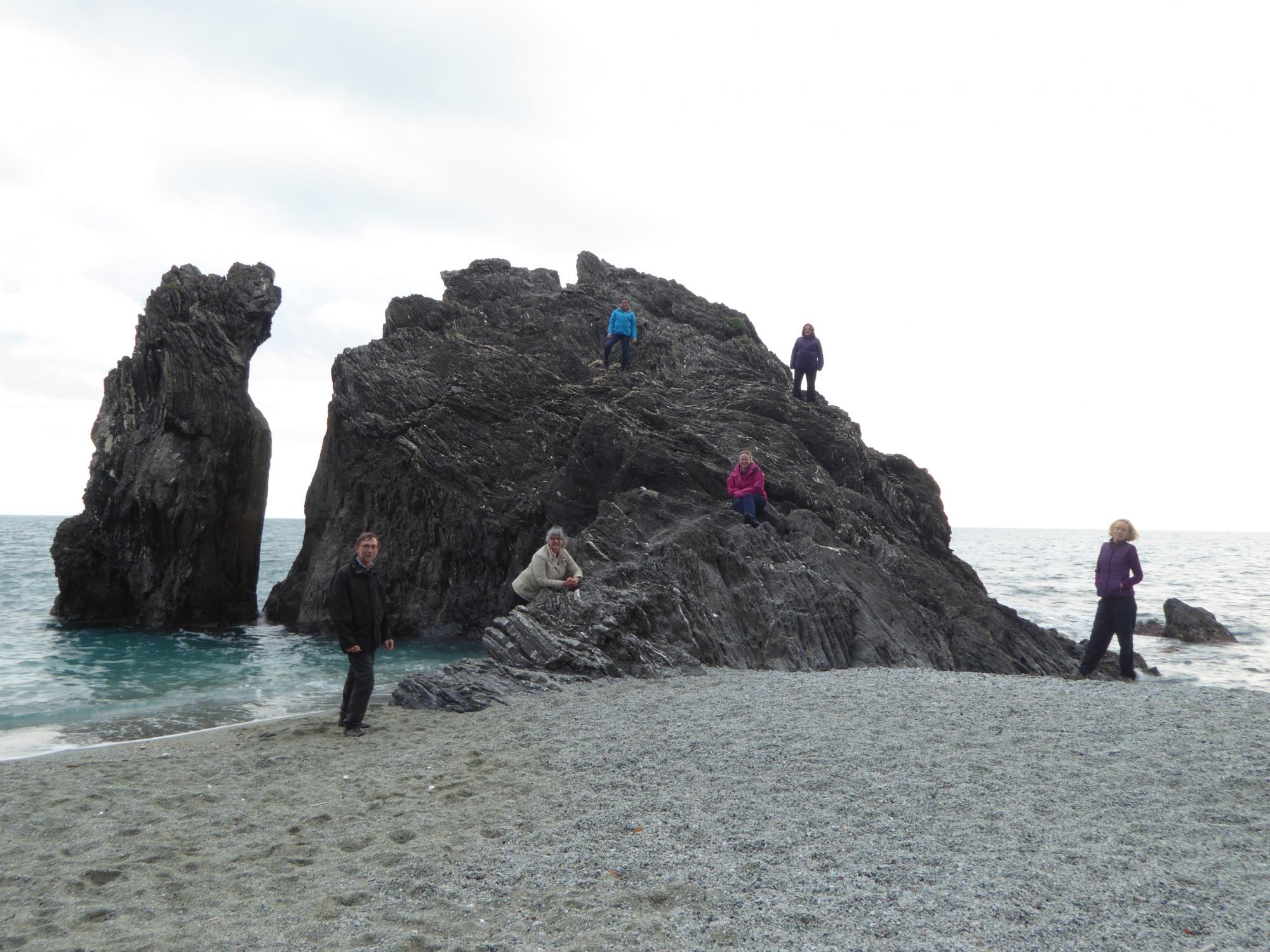 Our super group, from left to right; Rodney, Sue, Jen (me), Carla, Liz & Anna.
Day Five
My alarm went off at 4am and Carla and I left for Riomaggiore at 4:30am (the others opted to enjoy a few more hours of sleep). My first sunrise was totally worth the early start, the light was amazing and the beautiful port looked totally different to the way it had previously in mid-afternoon light. After breakfast with the rest of the group back at base we all agreed we would like to return to Manarola. We walked up to a great spot Carla knew and the view was breathtaking. After yet another ice cream (it's a hard life!) we headed back for one of the highlights of the week - our private boat trip. Our 'Capitano' for the early evening sail along the coast was the very entertaining 'Stefano' who not only made us laugh but had a fantastic knowledge of the history of his home town. He was also very obliging when we wanted him to stop, slow down, speed up, change angle or any other request we may have had to get our 'perfect' shots. It was so lovely to see each of the villages we had visited during the week from this perspective.
Day Six
After a last bit of shopping for pesto and lemon marmalade (homemade at our hotel) it was time to say goodbye to the lovely hotel family. Our private transfer driver back to the airport was another charming chap who took us for an unplanned detour to the leaning tower of Pisa on our way to the airport - a perfect end to a perfect week.
In conclusion...
I thoroughly recommend Cinque Terre, especially if you get a chance to go with someone like Carla who knows it so well. She knew where and when the sun would rise and set, where is prettiest at what times of day. The hotel was superb. Polite, helpful and attentive staff, beautiful views, fabulous food and drinks and great location.
I've come home with a new found love of photography and having discovered a location that I wouldn't normally have chosen. When you're looking for things to photograph you see more of everything and you see the world in a different way. Each time I walked down the street from our hotel I saw something new and I am not sure I have ever seen so much of any other place on a holiday but I feel that I will from now on...
I never expected to love photography so much, I didn't expect to laugh as much as I did... in fact the whole trip exceeded my expectations.
All (unedited) images taken by Jenna Guy. We are currently planning our next trip to Cinque Terre for March 2018.