Digital Darkroom
22nd November 2017
At the beginning of November Adrian Beasley held a series of Lightroom workshops for Light and Land. Luke Das went along to take part and see what new skills and techniques can be learnt using Lightroom to enhance your photography.
In the contemporary and lavish surrounds of a citizenM meeting room, the attendees for an Adobe Lightroom workshop filter in. Their tutor Adrian Beasley warmly welcomes each person and hands out notebooks. While the guests make their introductions, hot beverages are shared and lively conversations about photography ensue.
Adrian is a staple part of the Light and Land family and he has lead digital imaging workshops for nearly fifteen years. With a background in engineering, he is well versed in methods from the film era of photography and literate in the latest technological advances. While he welcomes back familiar faces, he openly asks each individual about their learning needs. These vary from workflow, software and hardware issues. The experience of the group is equally considerable ranging from total beginners to professional photographers.
Adobe Lightroom acts as means to edit and organise photographs. Since its early development in 2007, it has grown in popularity to become the mainstay system for many active photographers. Adrian outlines the key principles of the library module, which acts as a gateway in and out of the system. In contrast to files in desktop folders, imported images exist virtually in Lightroom until they are exported. This presents several advantages such as non-destructive editing for groups of images and limitless means to categorise them.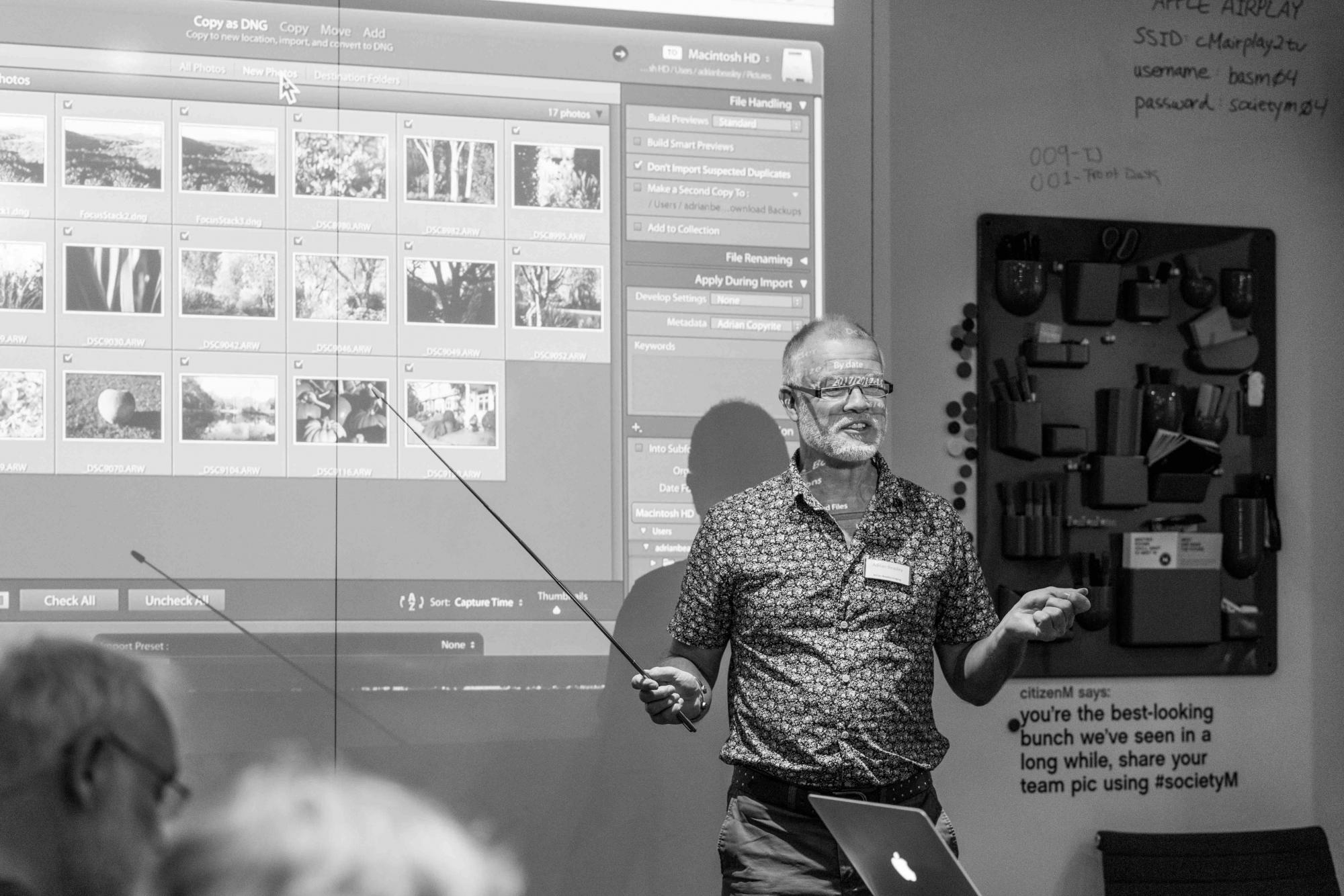 An early revelation for the participants is the idea of collections. Users can drag files into a manual collection to group them together in an album. Further subdivisions can be as elaborate as required. A smart collection depends upon the user embedding keywords into imported images, for example, 'landscape', 'holiday' or 'Iceland', or other labelling markers. Rules may be defined that allow existing files to be recognised and future images to self populate into the smart collection. 'This structured methodology is a very powerful process, which makes it easier to find your photographs,' Adrian explains.
The develop module in Lightroom acts as a digital darkroom and empowers a photographer to bring their images to life. It presents a plethora of editing tools, which are adjusted to meet technical and aesthetic criteria. 'Beginners can find it daunting that their raw files have no resemblance to the pictures that appear on the back of their camera. All of your sliders will default to zero and it is important to create your own presets as a baseline point to start editing,' says Adrian.
The scope of creative potential that Lightroom presents is vast. Adrian illustrates the benefits of the tone curve to edit contrast, using the white balance dropper to correct colour cast and many other techniques. Adrian later explains one of his favourite tools in the current version of Lightroom, 'The radial filter offers an innovative way to edit the lighting in an image. You can illuminate sections of a photograph in a very natural way. This opens up lots of creative possibilities. Recall the example picture of a rock formation on a beach. We were able to brighten the rocks without much effect on the surrounding sand.'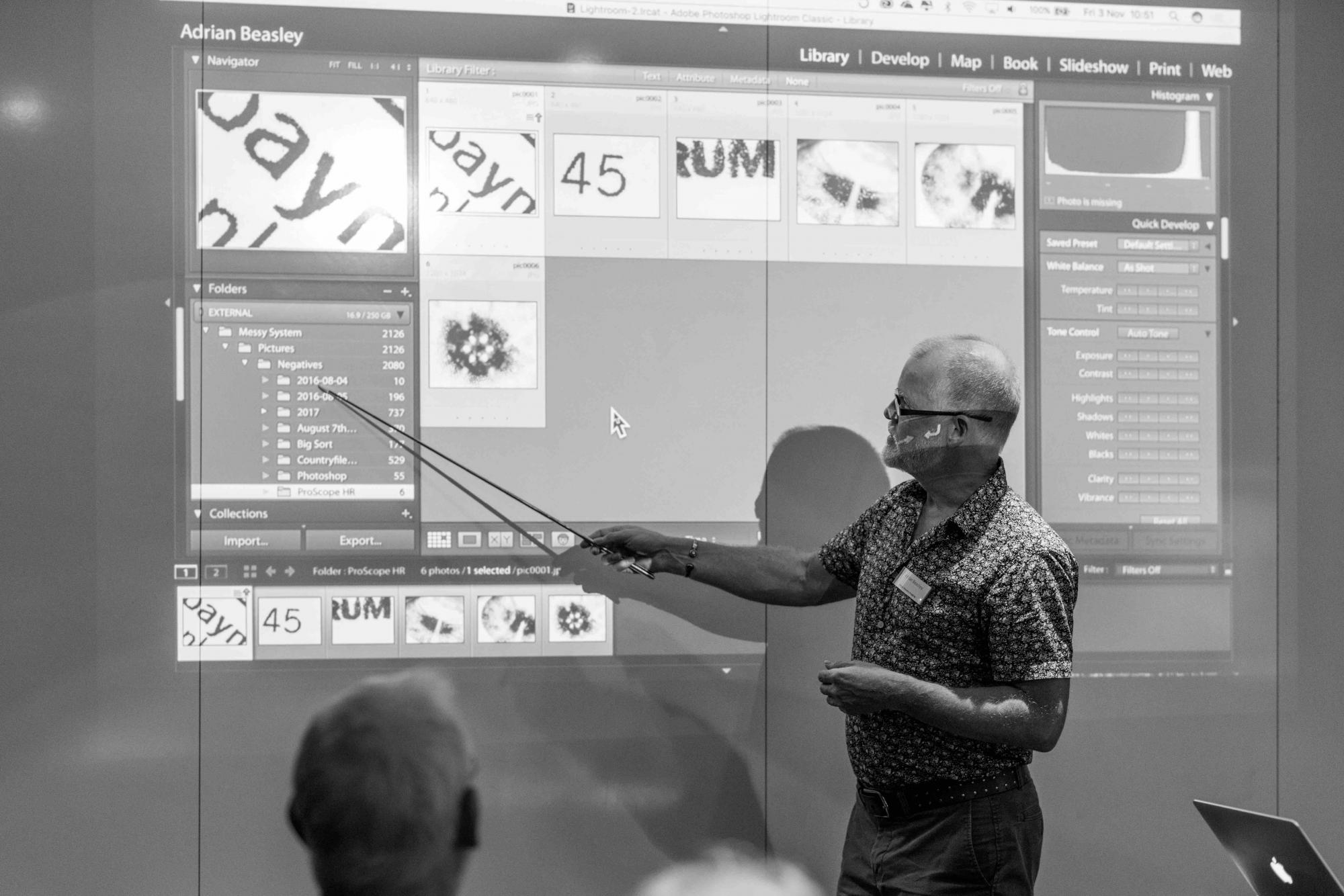 There are several moments in the workshop to pause for breaks and questions. The students all share their collective knowledge and are enthusiastic to apply the techniques to their own image archives. After an intensive and fulfilling session one of the attendees Janine concludes, 'Photography has been a lifelong interest and it is now my main priority. I have been on a few tours with Light and Land. It was a fantastic way to get started. Adrian is an outstanding teacher. He takes a genuine interest into the agenda of every pupil. Today I developed a better understanding of collections and a deeper understanding of the editing process.'