Sam Gregory shares his experience leading the Puglia tour…
8th October 2019
I've just come back from this year's Puglia photography tour for Light & Land, and yes, I am missing the late 20 degree heat!! This was my first year running this particular tour but not my first trip to Puglia, in fact it's an area I've grown very fond of, and each time I visit it reveals more of its visual treasures. When the chance came to lead this tour I was more than happy to say "Yes Please!".
The tour is split into two main sections, for the first 3 nights we stay in the small harbour town of Giovinazzo, just north of Bari on the east coast of Puglia. Then, we move inland to Alberobello, well known for its mass of Trulli homes and stay there for 2 nights before heading back to the UK.
On any trip I spend time discussing ways to approach various locations, all the while my job is to enthuse guests to expand their current approach as opposed to imposing mine. The last thing I should do is create a group of mini-me's - it's the sin of any teacher!
Days 1-3: Giovinazzo & Surrounding Area
Our base for the first 3 nights of Giovinazzo is an attractive small harbour town. The hotel is situated within the old town walls and even offers a rooftop terrace for a very quick and easy sunrise or sunset location. From here we branch out to other locations such as Matera, Polignano a Mare, San Vito and Santo Spirito. Each has it's own charm, visual character and story as the guests found out.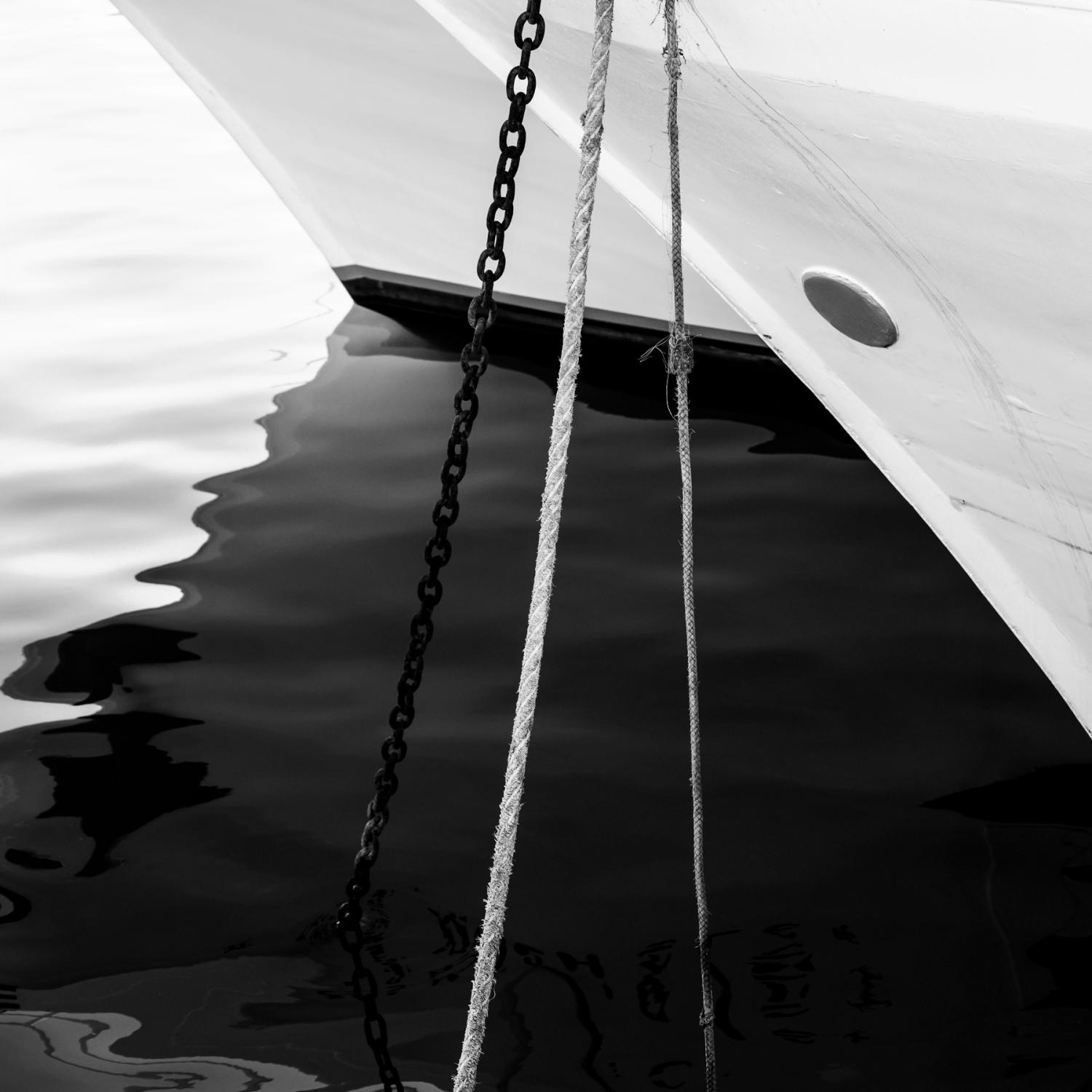 SANTO SPIRITO HARBOUR
Usually we start with a couple of hours in Santo Spirito on the day of arrival. This area sits behind a couple of long harbour walls and offers a snapshot of the variety of environments we encounter throughout the week in one small microcosm, let's call it something of a photographic warm-up.
From small details of fishing boats and paraphernalia, to the clean lines of the local architecture, to opportunities for more minimalist long exposure shots. I try to use this area as a visual introduction to Puglia, which may be very different to the guests local environment in the UK. It's hotter, flatter and commonly featuring a lot more blue sky in Puglia so it can take a few sessions to start to adjust the eyes accordingly.
MOVEMENT IN SAN VITO
On our 2nd day we visit San Vito and Polignano a Mare. In the harbour of San Vito there are gloriously coloured boats bobbing gently in the harbour. We discuss ways to try and represent and show that movement, essentially trying to stimulate the thought process of taking images about things, not just of things. ps - This is also site of an extremely good local restaurant (more on those later!)
Polignano a Mare earned the nickname of "Clacton" in our group this year after I explained that 'a Mare' essentially means 'on sea' and before you know it someone piped up with "like Clacton!?". No knock on Clacton-on-Sea but I suspect we had better weather in Polignano and here the guests were tasked with really concentrating on, and highlighting, the clean angular lines (and bright white colour) of the architecture here.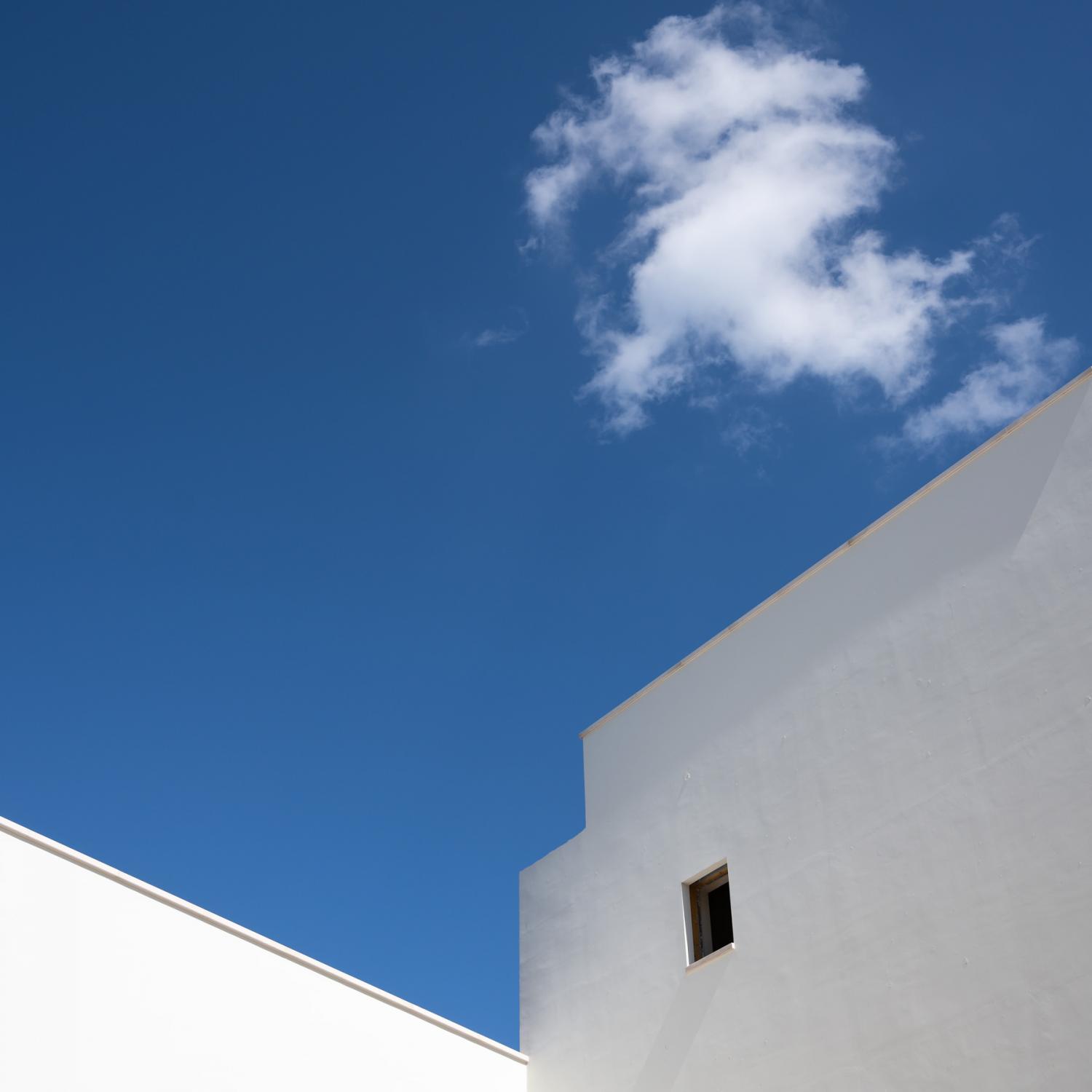 SHAPES IN POLIGNANO
Heading inland on Day 3 we visit the fascinating Matera, European City of Culture for 2019. This city is carved into the rock and sits astride a large hill with stunning views all around. Matera has an interesting back-story, it had seen various settlers throughout the last 2,000 years but it came to 'fame' in Italy around 60 years ago when it was discovered that many families were essentially still living in caves, with children and livestock all under one roof. These rock 'shanty towns' were called the Sassi (Sasso is Italian for Rock). Word spread and it became a national scandal that people were still living in this way after the second world war.
In the end, the citizens were moved out of the rock Sassi homes and re-located, some more successfully than others. As part of the tour we visit a local heritage centre where there is an interactive video presentation explaining the history of Matera. It's important when shooting any location that you have some knowledge of it's political and natural history, all these elements should be put into your visual melting pot so you can seek to included some of these themes or references in your image making there.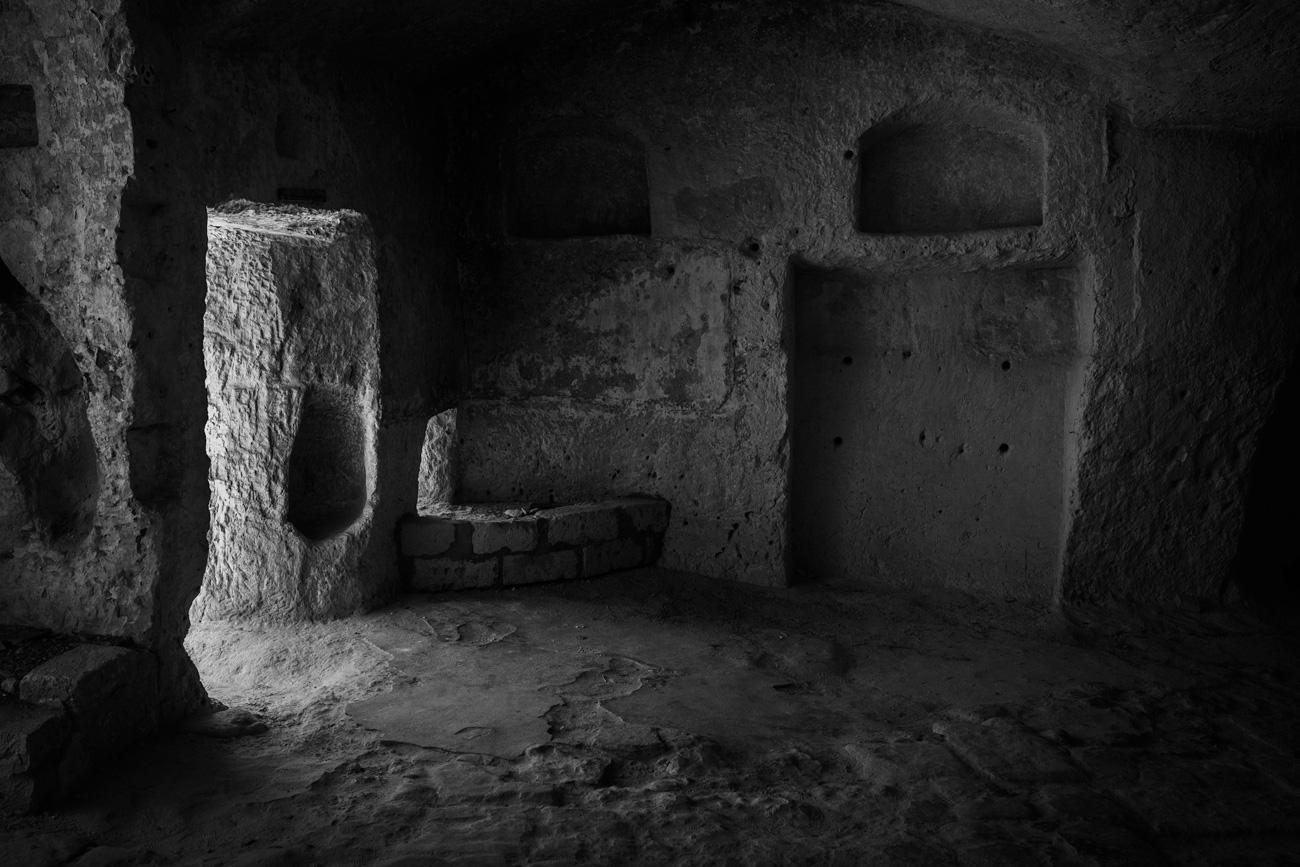 CAVE DWELLING IN MATERA
Days 4-6: Alberobello & Surrounding Area
After this first part of the tour we head inland to Alberobello for a couple of nights. We choose this time because Alberobello plays host to the Festival of Saints Cosmos & Damian and the town is awash with music, lights and celebrations. This makes for many great photo opportunities and all the guests really enjoyed the buzz around the town, including some great quality local bands playing traditional Italian songs.
However, it's not all party-time, Alberobello is world renowned for its concentration of Trulli homes. These traditional Puglian homes have been in existence for hundreds of years. Made of dry-wall construction, without water, the design facilitated a quick way to disassemble your lodgings should the Kingdom of Naples tax collectors come knocking!
They are fascinating buildings and no doubt the shape of the roofs in particular are very photogenic. One way to put together a story of the Trulli is to capture many small details and present them in a set or panel of images. Another is just to solely focus on those dynamic rooftop shapes and capture them with a complimentary medley of sky and cloud.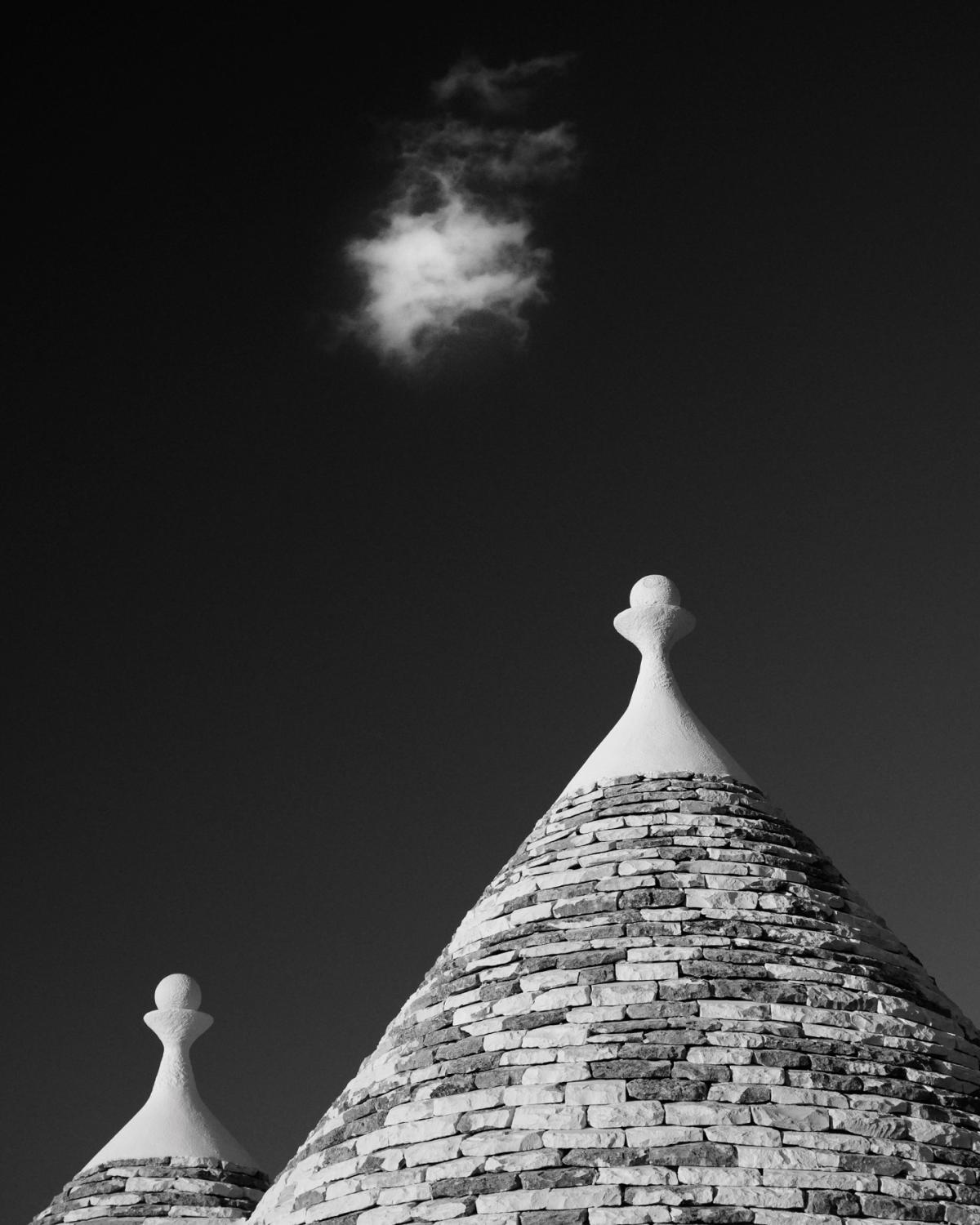 TRULLI ROOFTOP CONES
From Alberobello we also reach out to locations such as Locorotondo (regarded as one of the Top 10 prettiest villages in Italy) and Ostuni. Also in this leg of the tour we get to spend some time exploring an area of olive groves. Some of the trees here are hundreds of years old and have such texture and character in their trunks.
Puglia has had some issues recently with an aggressive plant bacterium that has wiped out around 15% of the olive trees in the area. With an olive tree population of 60 million (!) this destruction is no small feat. Currently Puglia produces around 40% of Italys olive oil output and scientist and farmers are working hard to secure the trees in this beautiful region for plenty more generations to enjoy.
OLIVE TREES
In summary, this is a tour that covers an array of photographic situations and opportunities. From the clean angular lines of the architecture, to the more traditional shapes of the Trulli homes. We also get chance to shoot in harbours and by the sea to experience the movement and dynamism of coastal photography, plus some quality time spent wandering in the olive groves and local landscapes.
I'll be leading this tour again in 2020 and places are now available to book here. It would be great to see you in Puglia, and as I hinted at before, I can promise you the best food and drink you'll probably find on any Light & Land tour!
Testimonials from Sept 2019 Puglia tour:
"I have been on Light and Land one day workshops and a tour before so knew that they were very good. I did not really know what to expect from a tour of Puglia before I went but I was not disappointed. The photography locations we visited were varied and interesting. The food and wine were excellent and very good value. The hotels were both in excellent locations, the first one being outstanding in every respect, the second one also good although understandably not quite to the standard of the first one. The tutor Sam Gregory was brilliant. He was very organised, and went above and beyond in making sure that everything ran smoothly and easily for everyone. On previous tours the tutors have made themselves available to answer questions as and when required, but Sam made the effort to provide teaching at every available opportunity to anyone who cared to take advantage of his insights into photography and photo editing. I learned a lot on this tour and find myself looking differently at my own pictures and the landscape around me since I got back." - Jane
"It was an excellent tour (one of the best we've been on), which we would thoroughly recommend. Plenty of opportunity to photograph the iconic buildings of the area (the Trullis) as well as the little towns and harbours. Sam was a first-class leader manging to achieve a perfect blend of help when needed (including ideas for post-processing the images) and freedom to take images unhindered. He was also great at the logistics of the tour: the driving, parking, and choosing places to eat and drink, so that we were able to sample the best of Puglia. The location of both hotels was perfect enabling us to take dawn and dusk pictures (and experience the fiesta in Alberello) within easy walking distance" - Valerie and Alun