Santorini, as blue as a blue thing…
24th June 2016
One of the many benefits of my job is that I am lucky enough to be allowed to join a Light and Land tour every year. After much scouring of tours (wishing I could join them all!) this year I chose to visit the beautiful Island of Santorini, Greece with leaders Clive Minitt and Phil Malpas.
I have not been on a tour with Phil and Clive before, but I have enjoyed many a 'meeting' in the Light and Land office, several Christmas 'do's' and the Light and Land exhibitions with the 'comedy duo', not to mention being the lucky recipient of all the fantastic post tour questionnaires received on completion of their tours, so I was keen to witness myself the magic they conjure on a tour!
My other half, James, was also delighted to be joining the tour, although not a photographer himself, I was eager to see if he would return converted.
After a fairly pleasant flight, we were met at the airport by a cheerful Phil and Clive and introduced to a couple of the other members of the group, who were also met on arrival. From here we piled into the buses (or small runaround in my case) and headed for the hotel.
For this tour, we are lucky enough to stay at the friendly and unique Finikia Memories hotel, just on the very outskirts of Oia. Clive found this gem of a place on his very first recce of the Island and we have returned there for the past 8 tours. Here the group is looked after with first class service. This is where we enjoyed dinner every evening from a varied menu (and a few vinos!) after a sunset shoot.
On the first evening, we enjoyed introductions over dinner where Clive also explained how the days would be mapped out. It went something along the lines of...Out for sunrise every morning at 5am, followed by breakfast, an hour's rest, back out at 10:30am for a location shoot. Lunch followed at one of the various restaurants and cafes, break for some much needed rest between 3-5pm, critique session of client images, followed by a sunset shoot and dinner. Long days but worth it! It was explained that everyone was welcome to join as much or as little as they wanted, of course some people combined photography with leisure and made the most of the hotel's swimming pool and terrific weather.
Regrettably, I am not much of a morning person myself, so only joined the one sunrise shoot, but I did make the most of the sunsets and daily location shoots, exploring ancient villages and socializing with the group over lunch and dinner. Locations we visited over the week included:
Oia – sunrise, sunset
Megalochori Village
Agiou Mina Church, Firostephani
Pyrgos village
Finikia Village
Vothonas village
Imerovigli – walk along caldera towards Finikia
Boat visit to Nea Kameni volcano (including swim!)
Pori
Amoudi Harbour
The ancient villages and churches were perfect for simple compositions and revealed unseen gems. I enjoyed learning about line and colour and found my style leading more towards abstract or simple compositions over the course of the week. Phil and Clive were always on hand to give advice, whether it be technical or with new ideas. From day one, I felt comfortable in the group and safe in the knowledge that Clive and Phil knew the right places to go at the right times. Along with being great guides, brilliant teachers and safe bus drivers, they were continuously happy, friendly and fun!
On the Saturday they had arranged for us to go by private boat to visit Nea Kameni volcano. We left earlier than the 'tourist boats' meaning we had two whole hours on the volcano all to ourselves – absolutely perfect for Landscape photography. It was a gentle hike up to the top, where we were rewarded with incredible views of the islands and Santorini. On the return journey, we stopped at an inlet to swim in the hot sulphur waters, a perfect end to the visit.
Writing this, I am sat in the Light and Land office remembering the fantastic times I enjoyed over the seven days. To highlight my best moments, I would choose:
The private boat tour to the Volcano including the swim in the warm waters.
The exploration morning spent at Megalochori village, photographing narrow alleys, blue and white churches and colourful steps.
The numerous cats, sheltering in dens and wandering the streets (I love a cat picture)
The soft sunset looking over Oia
Dancing to 'the Moussakary song' on the final night!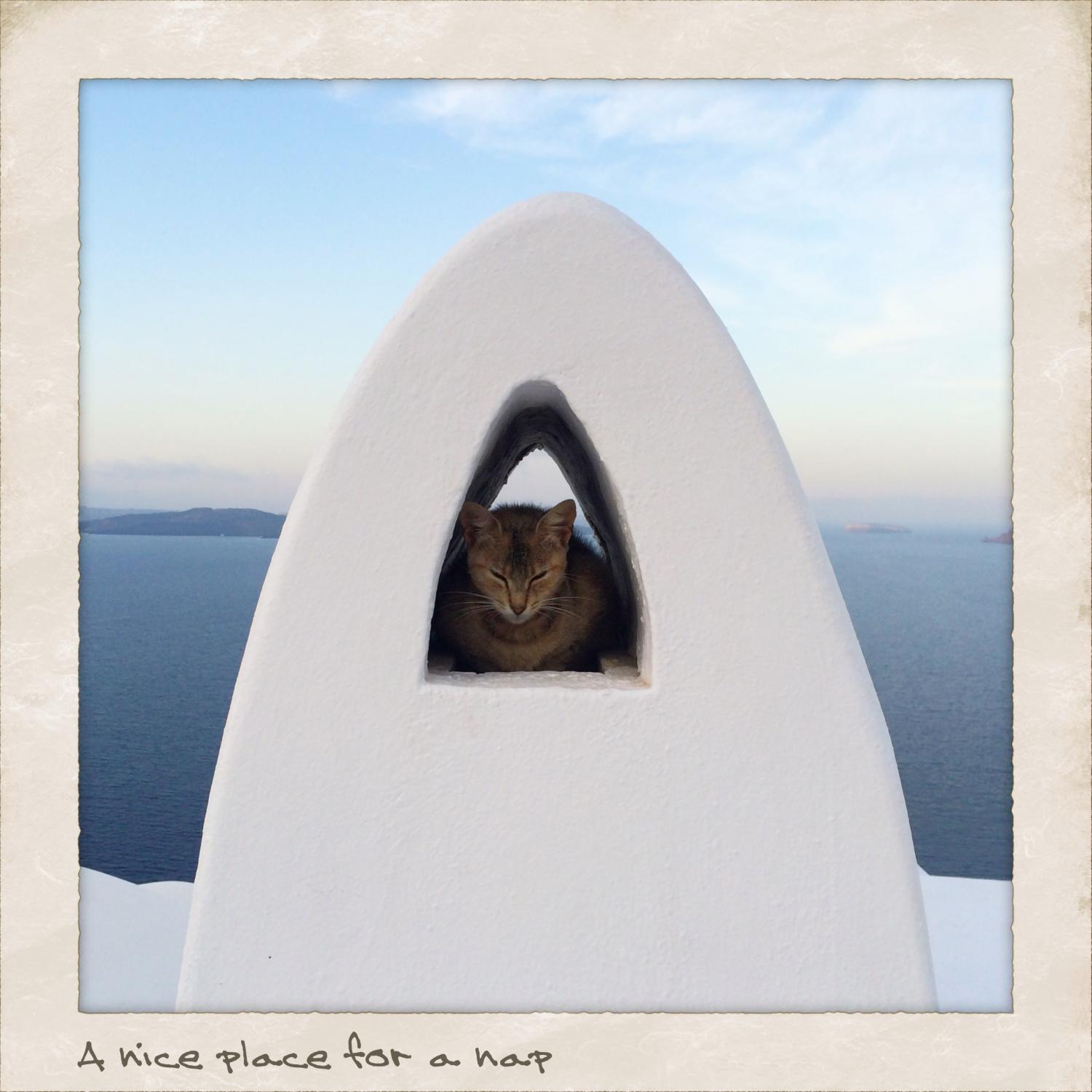 To me, this tour was ideal. As expected, the majority of the time was dedicated to photography, however this was combined with laughter, great food and new friends! I will not forget the group finale, dancing to Clive's song with the waiters (video footage not included!) for a long time. I am still chuckling.
And on a final note, I think James may be converted, I am certainly impressed by his IPhone shots! Thanks Clive and Phil.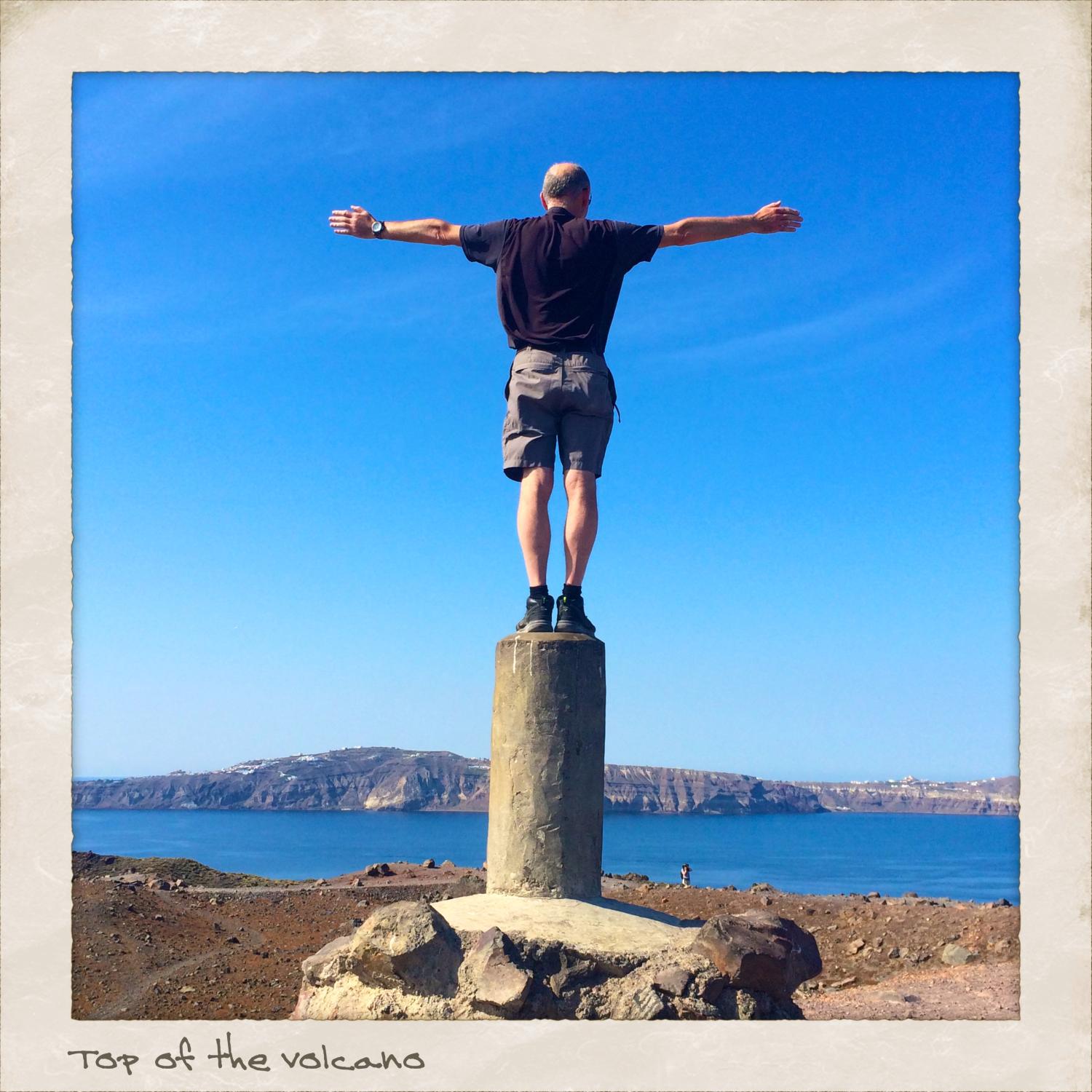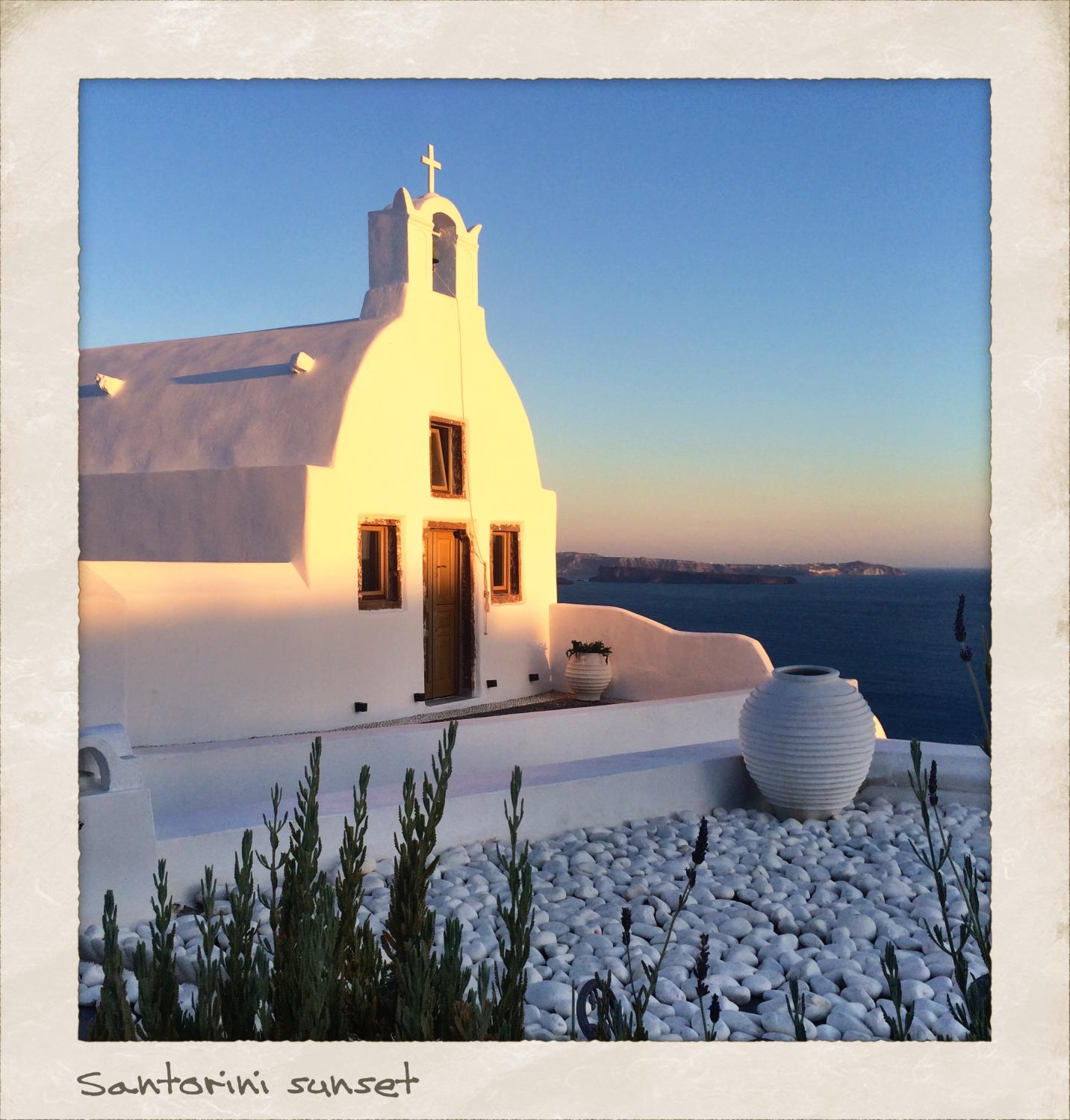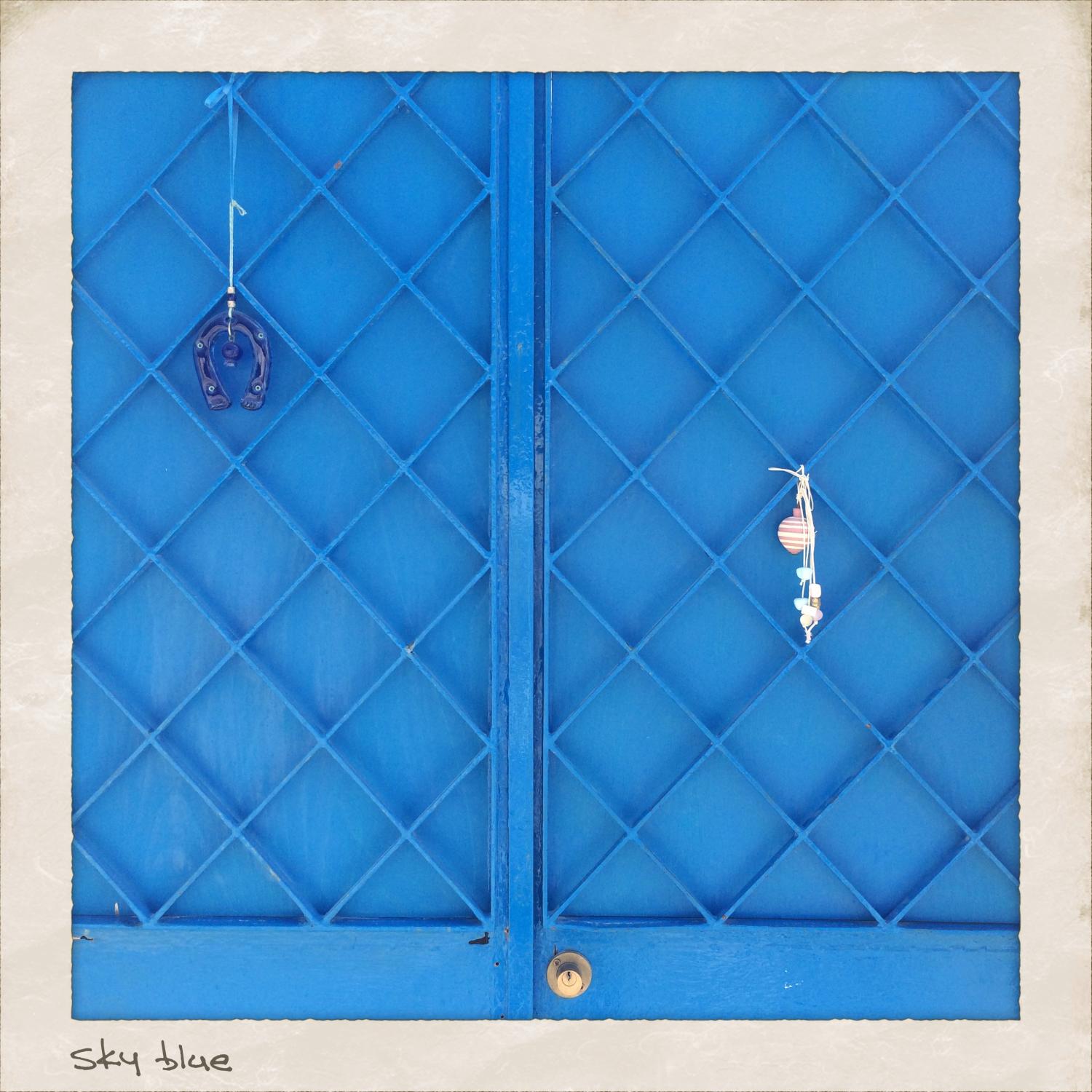 Testimonials from the group (glad to know they felt the same):
"Santorini was a wonderful experience with fascinating forms, textures and colors AND cats! A different photographic experience than Myanmar and Tuscany BUT the leadership was the same high quality. Phil and Clive know how to teach, when to offer a suggestion and when just to be there for support. They know how to lead with a light hand so that we were quite happily at the minibus by 5AM. They create a safe environment for learning and one, which is filled with fun. I would follow them anywhere! There was a lovely frosting on the cake as it were for this trip. Emily came! Emily is my Light and Land ground .. always there by email for help. As organized and efficient as she is in the office, she is so much fun to be around on vacation." Edie Clifford
"Really excellent tour: great leaders, great locations, great group atmosphere (I'm sure the leaders help to create this). I was expecting a lot, and it was even better than that. Most of the people on the tour had been with Phil and Clive before, and came back for more: that says more than any words." Peter Chua
"This was a super tour and I gained much from it. The tour was made by the high level of preparation and knowledge of the tour location by Clive and Phil. Their knowledge of the location and also photography kept us all interested and enthused. A very good mix of photography time and leisure time. The latter was often spent with all or part of the group and was an interesting add on to my photography knowledge as this was invariably one of the main topics of conversation." Margaret Ford
"Phil & Clive's leadership is everything you could wish for. Professional, supportive, encouraging and great fun." Maurice Ford