The day Charlie fell in love with the almond tree !
18th January 2017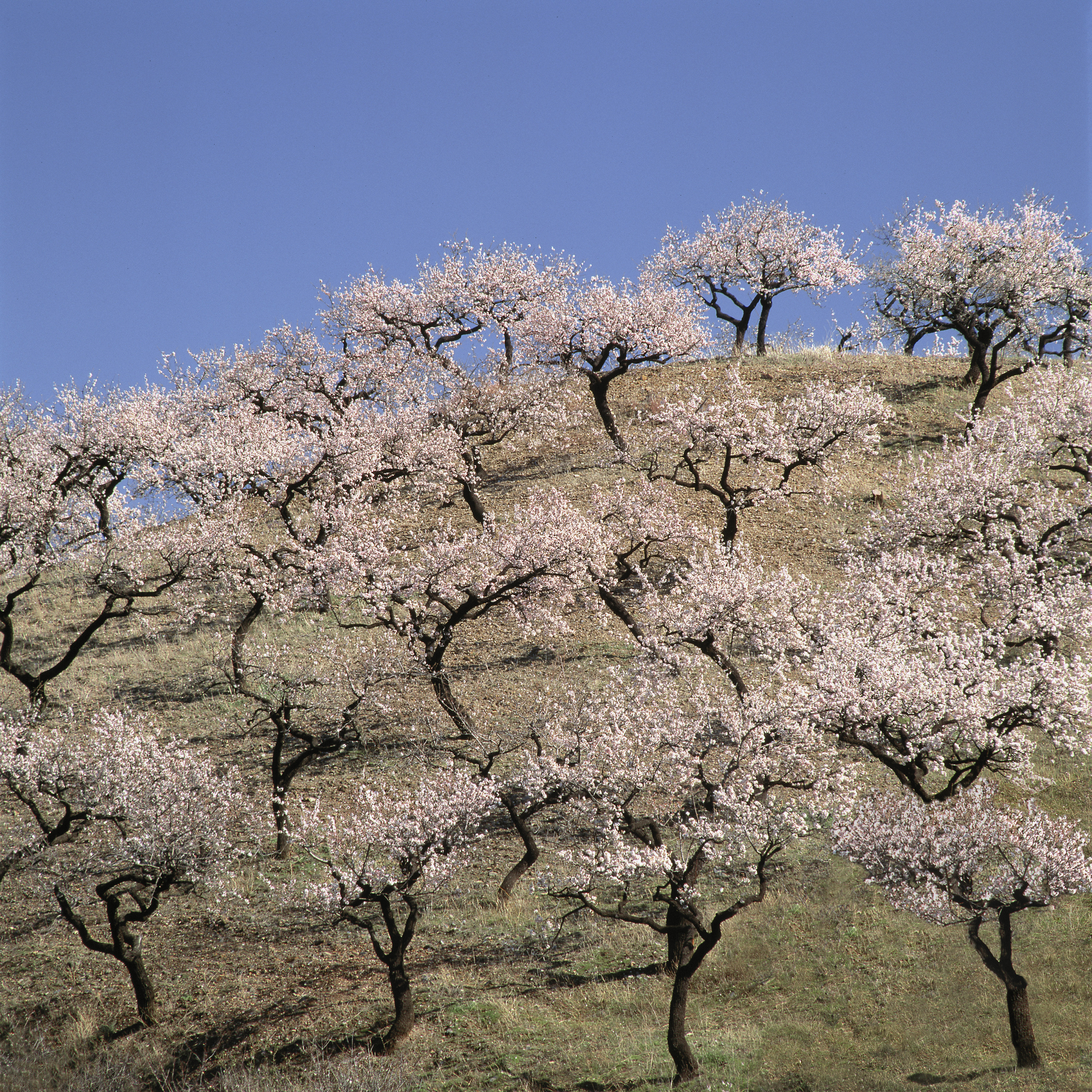 Charlie Waite's beautiful image of the Andalucian Almond Blossom features in his book " Landscape - The Story of 50 Favourite Photographs". He describes the moment he fell in love with the almond tree, on February 14th 2002 ..." To be on an Andalucian hill side, smothered by almond blossom, seems to be as good as life can get !"
The almond is a tree of Chinese origin that spread to the middle east by merchants travelling along the ancient Silk Road. It's a humble tree, not with the gnarled lived-in look of the Umbrian olive tree or the sturdiness of the French walnut, but for 10 days or so around Valentine's day the Andalucian hills are smothered in a sea of pale pink blushed blossom that shimmers and blows in the winter winds, it's a sight that can be seen from many kilometres away. The trees grow on the steep upper slopes where not much else will grow making them the perfect subject for photographing in the beautiful rugged Alpujarras in Southernmost Spain.
What's special about almonds?
Almonds come in packets, their shells, that keep them good for years and are highly portable and very nutritious, so were always a practical food for merchants on the move or nomadic tribes. They are a great source of vitamins and minerals if you more or less only eat grain – rich in calcium and vitamin E, high in protein and cholesterol free fat and mineral rich.
Almonds may have come to Spain via the Romans who not only enjoyed their culinary uses but regarded them as an aid to fertility. Sugared almonds were given as wedding gifts and almonds were scattered like confetti at weddings.
Spain is now the second largest producer of almonds in the world, and Andalucia makes the largest contribution to that crop.
Our tour to Andalucia from 3-7 February 2017, led by Peter Hendrie has a few spaces left. As well as the stunning blossom there will be a trip to the jewel in Granada's crown, the Moorish Palace of the Alhambra. The interior of the palace is mesmerising, with intricately carved domed ceilings and arches, offering wonderful opportunities for close up images of this stunning workmanship.
Why not take a look https://www.lightandland.co.uk/photography-tours/view/almond-blossom-in-andalucia