12 of Wales' most incredible landscapes
18th May 2019
From deserted beaches to mirror-like lakes and some of the UK's most captivating mountains, Wales has natural beauty to rival anywhere on Earth. Here, 12 landscape photographers pick their favourite locations and natural beauty hotspots to explore…
1: Three Cliffs Bay
By Paul Sanders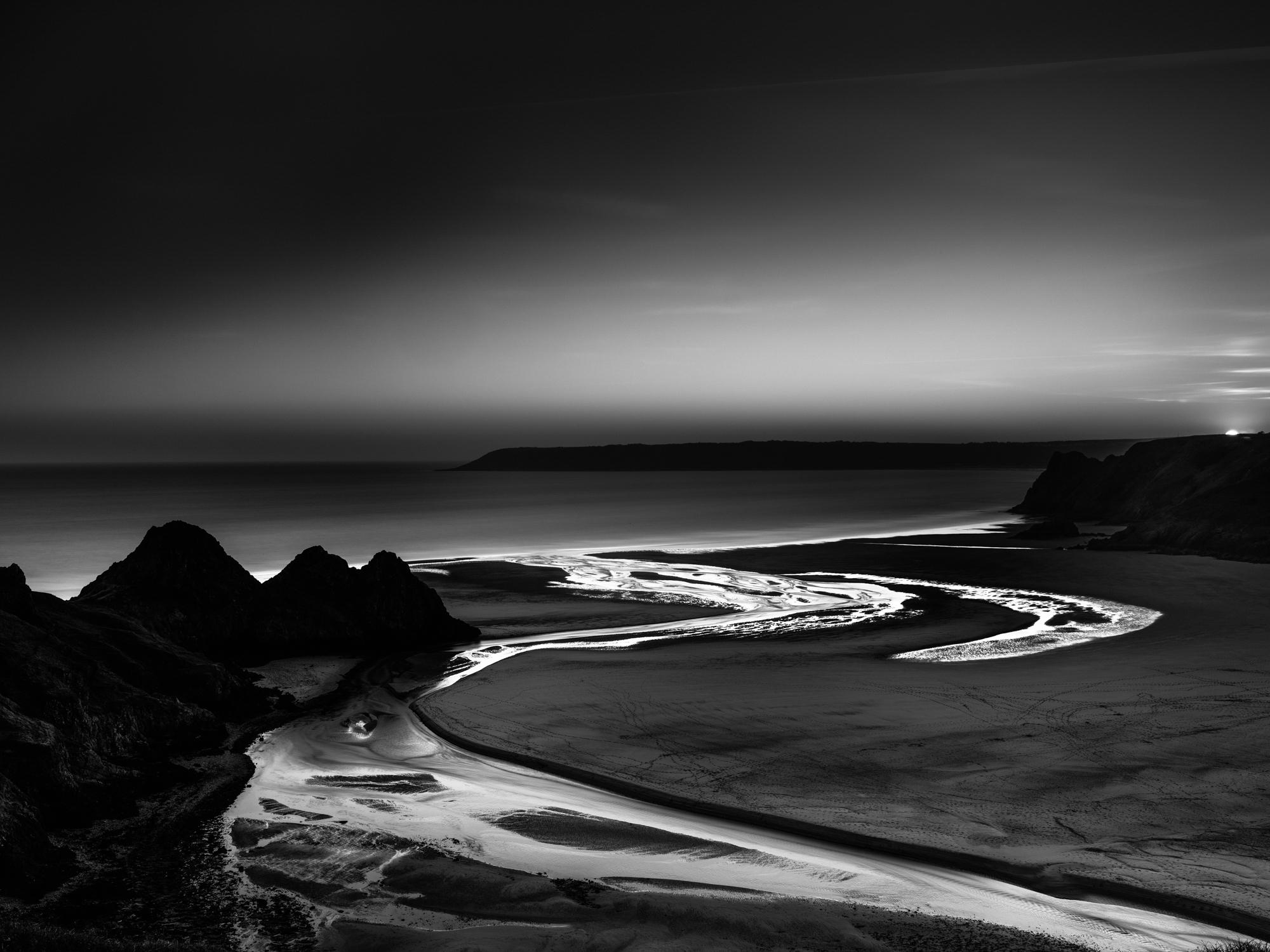 My favourite area of Wales is the Gower Peninsula. It's hard for me to isolate one location because the variety of landscapes there inspire me. I never fail to tire of this wonderful green and gold little corner of Wales
The vast open space of Rhosilli Bay, for example, gives a 'big sky' feel to a place where the wind whips your breath away as the waves roll in over the flat golden sand. Even the busy town of The Mumbles has its lighthouse perched on a rocky island and the most wonderful pier with an old-fashioned lifeboat station making a lovely minimalist composition.
But I'll choose the intimacy of Three Cliffs Bay. It has everything a photographer would want to see: a rugged rock arch pounded by waves at high tide and a lazy meandering river revealed at low tide.
2: Creggennan Lakes
By Doug Chinnery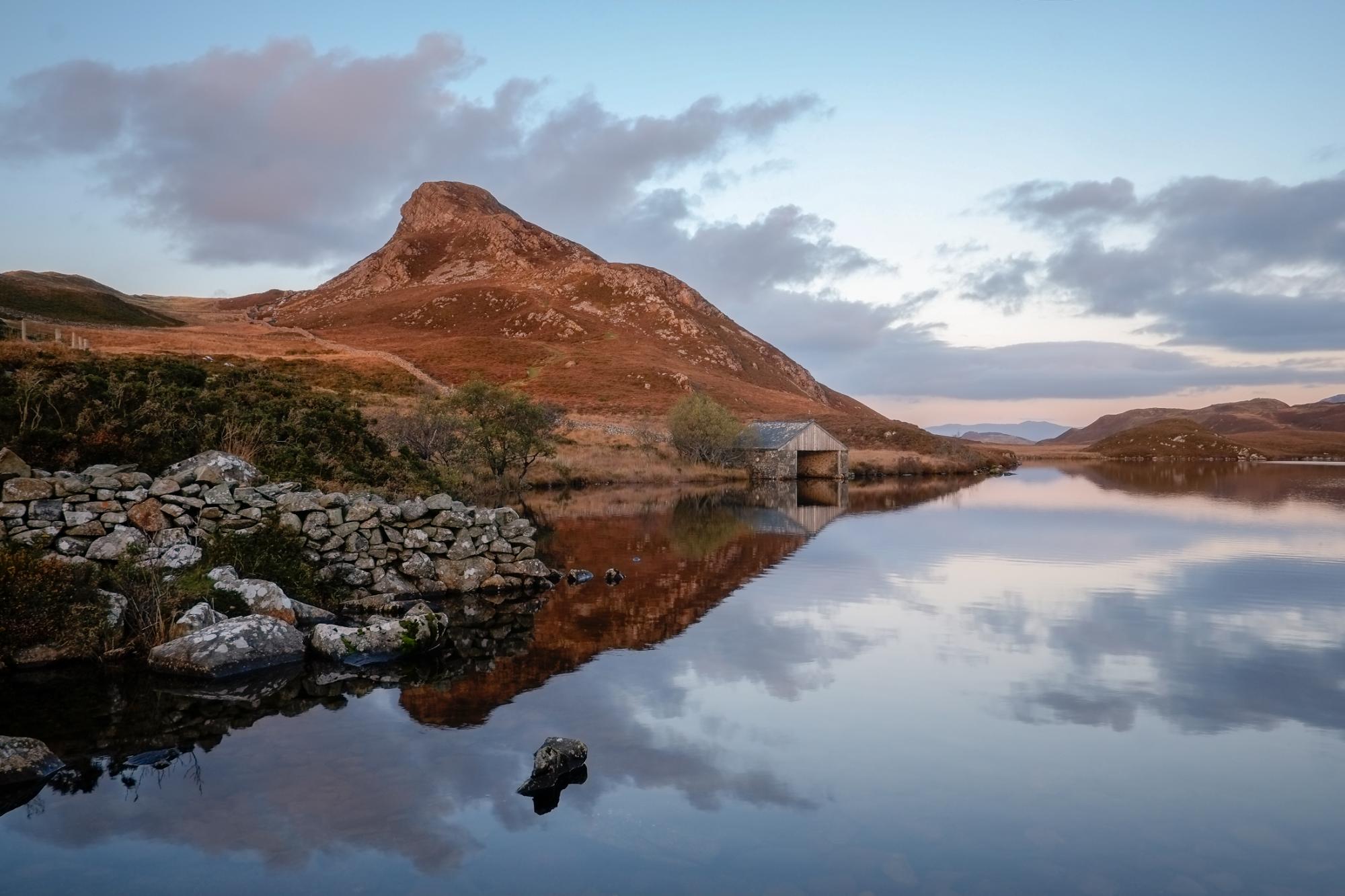 High above the majestic Mawdach Estuary at the very southern tip of Snowdonia climbs a torturous road to a secret place, known as Creggennan Lakes. Here, you have views out to Cardigan Bay to the west and stunning views inland over a wonderful hidden lake nestled in the hills to the east.
Photographic opportunities abound, from wide estuary views to lakeside reflections. Climbing to the top of Pared y Cefn Hir, an oddly shaped hill overlooking the lake, gives breathtaking 360 degree views of Snowdonia.
Go at sunset for the best experience. This is Wales at it's finest.
3: Llyn Idwal
By Adrian Beasley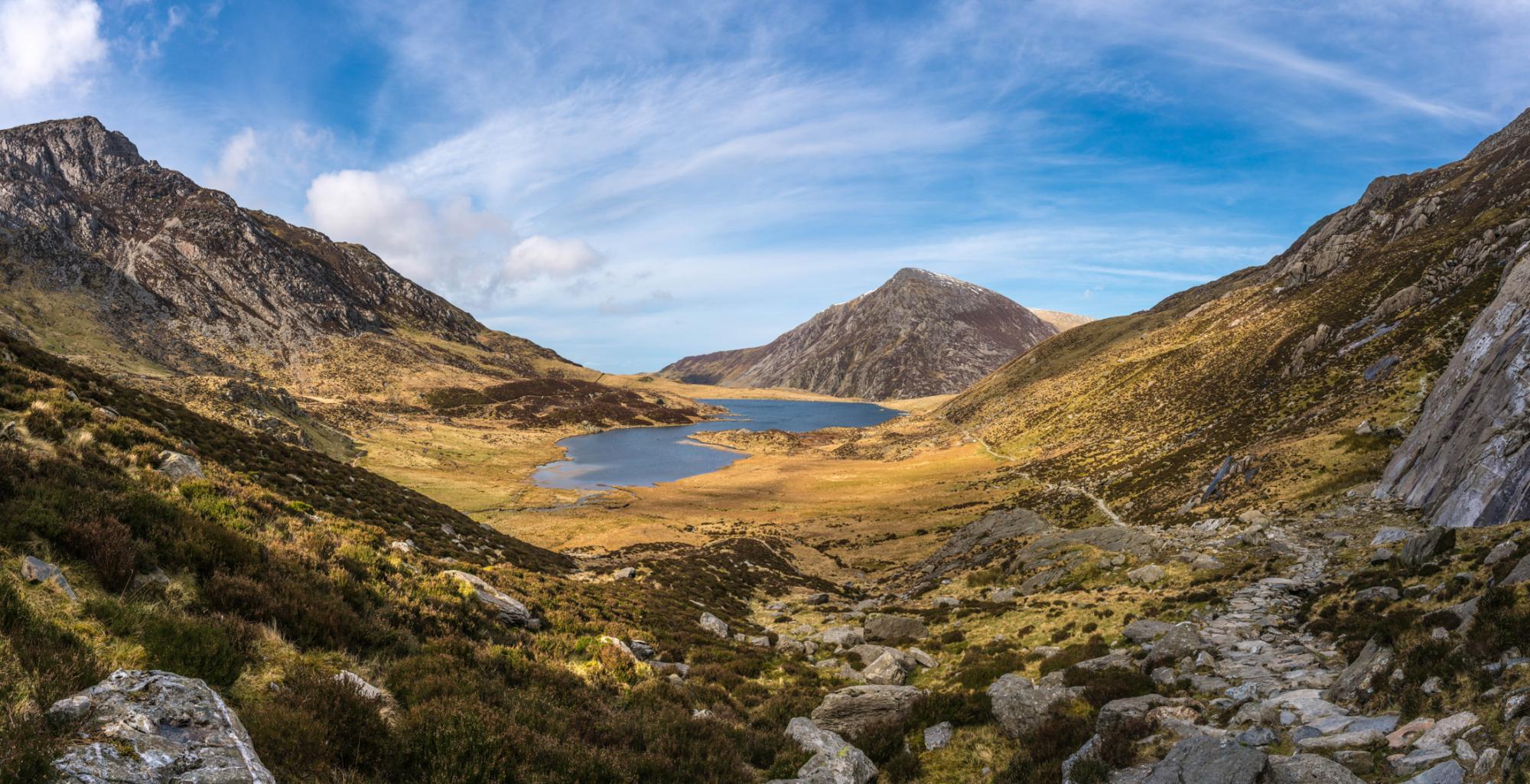 On the A5 from Caple Curig. Llyn Idwal is a small glacial lake within Cwm Idwal in the Glyderau mountains of Snowdonia, a 900-metre walk from Ogwen Cottage. It's surrounded by spectacular mountains, the dragon-like Tryfan being my favourite.
A circular walk exposes plenty of photo opportunities, and the more adventurous outdoor types can scramble to the glyders and beyond. There's a peaceful pebble beach, a great place to chill out and review your images.
4: Ynys Llanddwyn
By Mark Gray (www.markgray.com.au)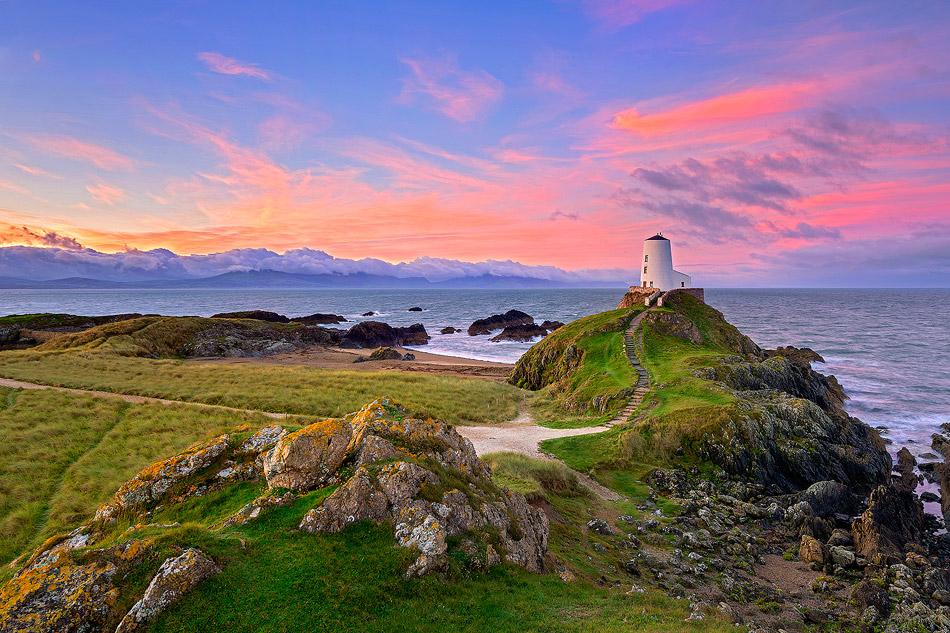 Ynys Llanddwyn is my favourite photography location in Wales. It's a tiny isle featuring a beautiful white lighthouse just off the Isle of Anglesey, not far from Snowdonia National Park.
You can access the Isle with a short hike but only on a low tide. Photographers must be careful to avoid getting stranded as the tide comes in.
5: Montgomery Castle
By Ben Osborne
Perched on a hill overlooking the small town of Montgomery in Powys, Montgomery Castle is an intriguing collection of earthworks and massive stone walls. It is the landscape, however, which makes this place special. To the north and east, the views extend into the rolling hills of mid-Wales and along the Welsh Marches, the border between Wales and England.
On a crisp autumn morning, mist softens the farmland in the valleys, while the outline of Corndon Hill presents a dramatic backdrop. Photographing into the rising sun gives a backlit effect, which emphasizes the golden light of dawn. If the conditions are foggy, rather than just misty, the castle itself has some beautiful shapes and textures.
An excellent breakfast is available in the welcoming Dragon Hotel which is a short walk into the town below.
6: Marloes Sands
By Drew Buckley (www.drewbuckleyphotography.com)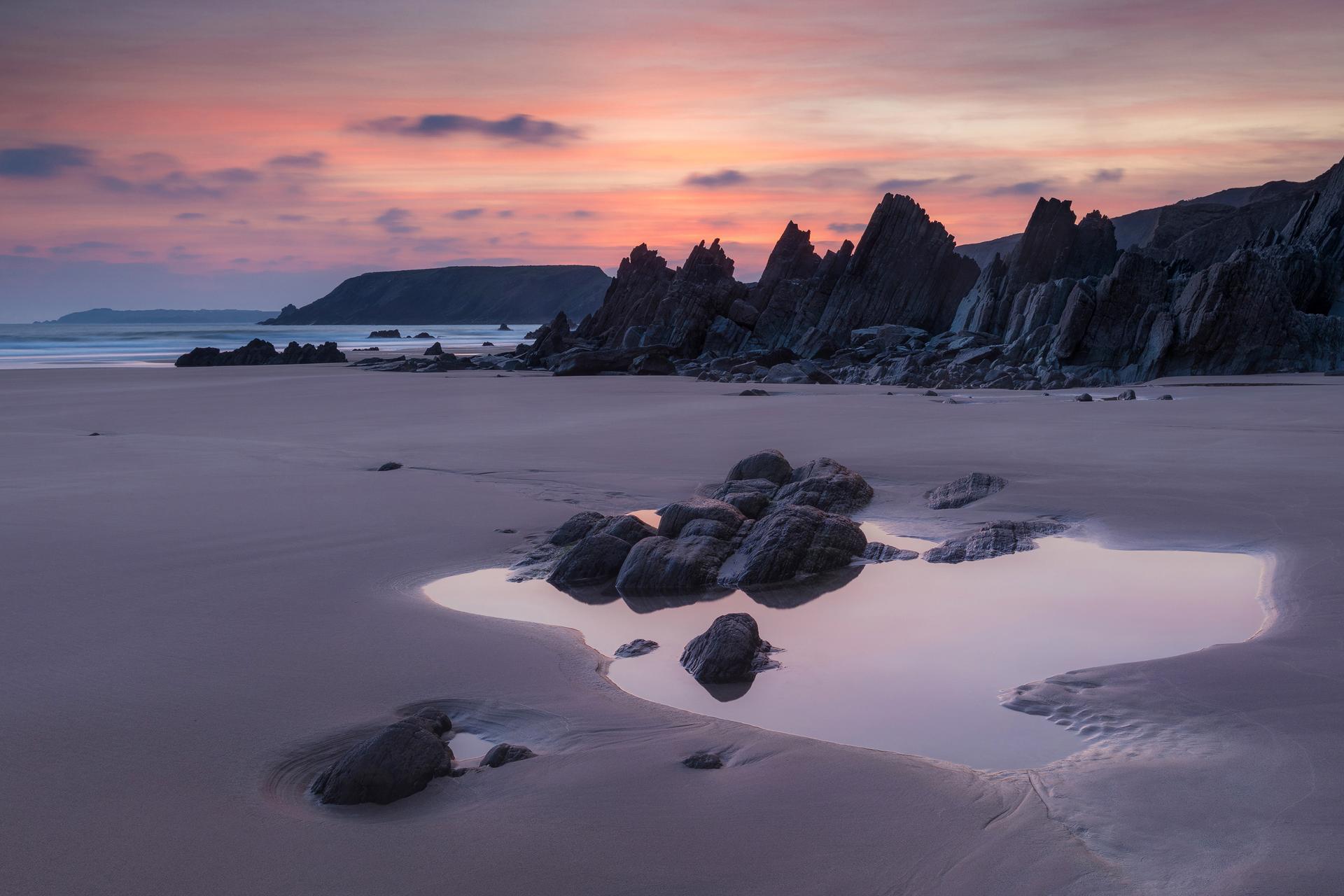 Growing up on the coast, this is where I feel happiest and most at home. The Pembrokeshire Coast National Park is a special place to photograph.
One of my favourite haunts is Marloes Sands, a huge beach, rich in geology and coastal interest. The intriguingly named Raggle Rocks seem somewhat prehistoric, as the huge stones jut out of the sand like dragons' spines
7: Cader Idris
By Charlie Waite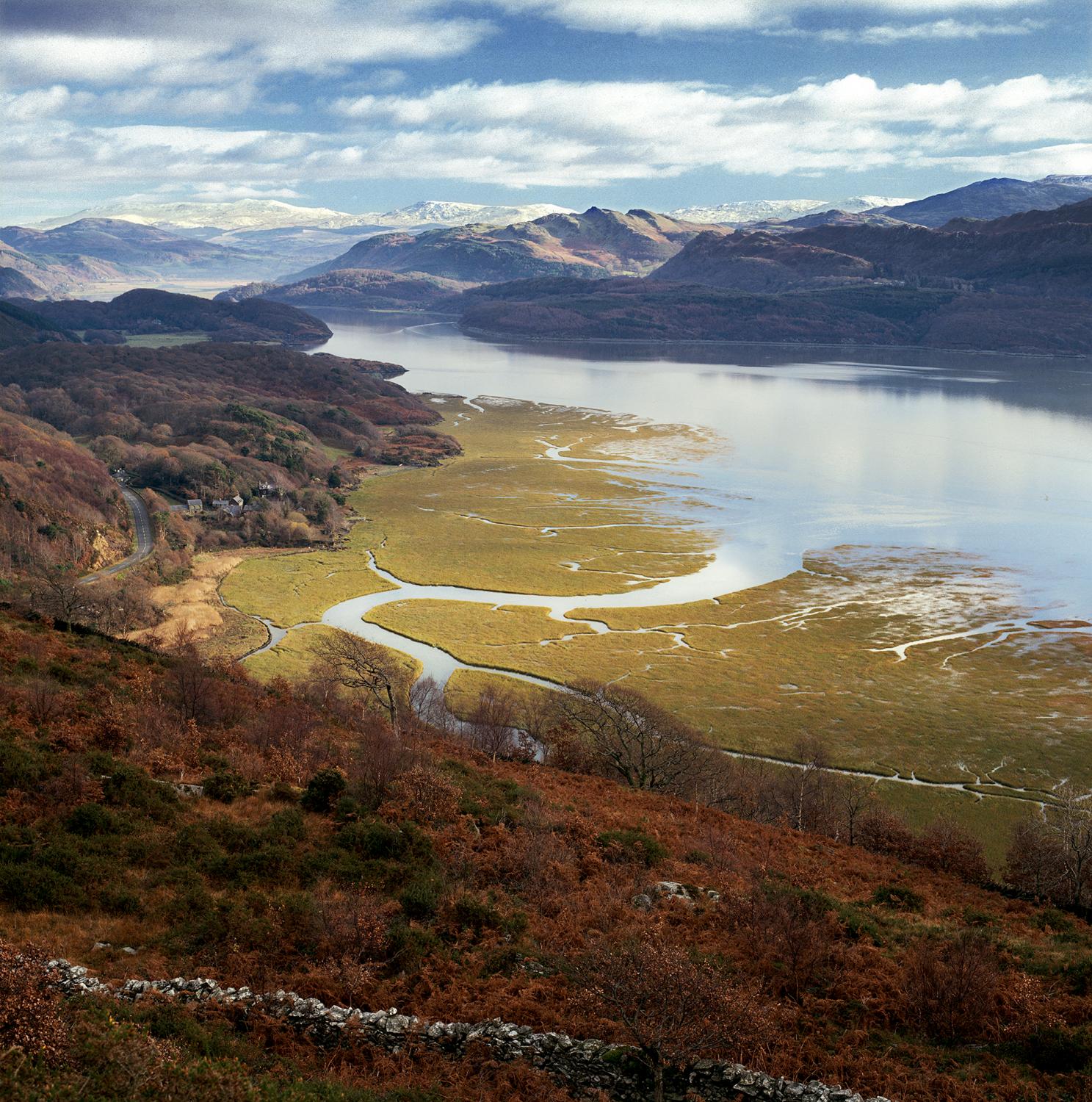 Cader Idris, or Cadair Idris, a mountain in Gwynedd, near Barmouth, is lovely. I really do love that area. Little Barmouth and the Pembrokeshire Coast is incredible. I did a walk up Cader Idris and spent some a lot of time up there, looking down on the lovely Mawddach estuary. I got it at exactly the right time. It was a bit of a gift actually, a lovely moment. The weather was bang on. The timing, which is everything with a tidal estuary, was also bang on.
I just thought this could not get any better. Cader Idris and the Mawddach estuary was a prime 7-star landscape offering me everything I could possibly wish for: clarity, good definition, romance, atmosphere, mood, drama, the whole lot rolled into one
8: Abereiddy Beach
By Vanda Ralevska (www.mylenscapes.co.uk)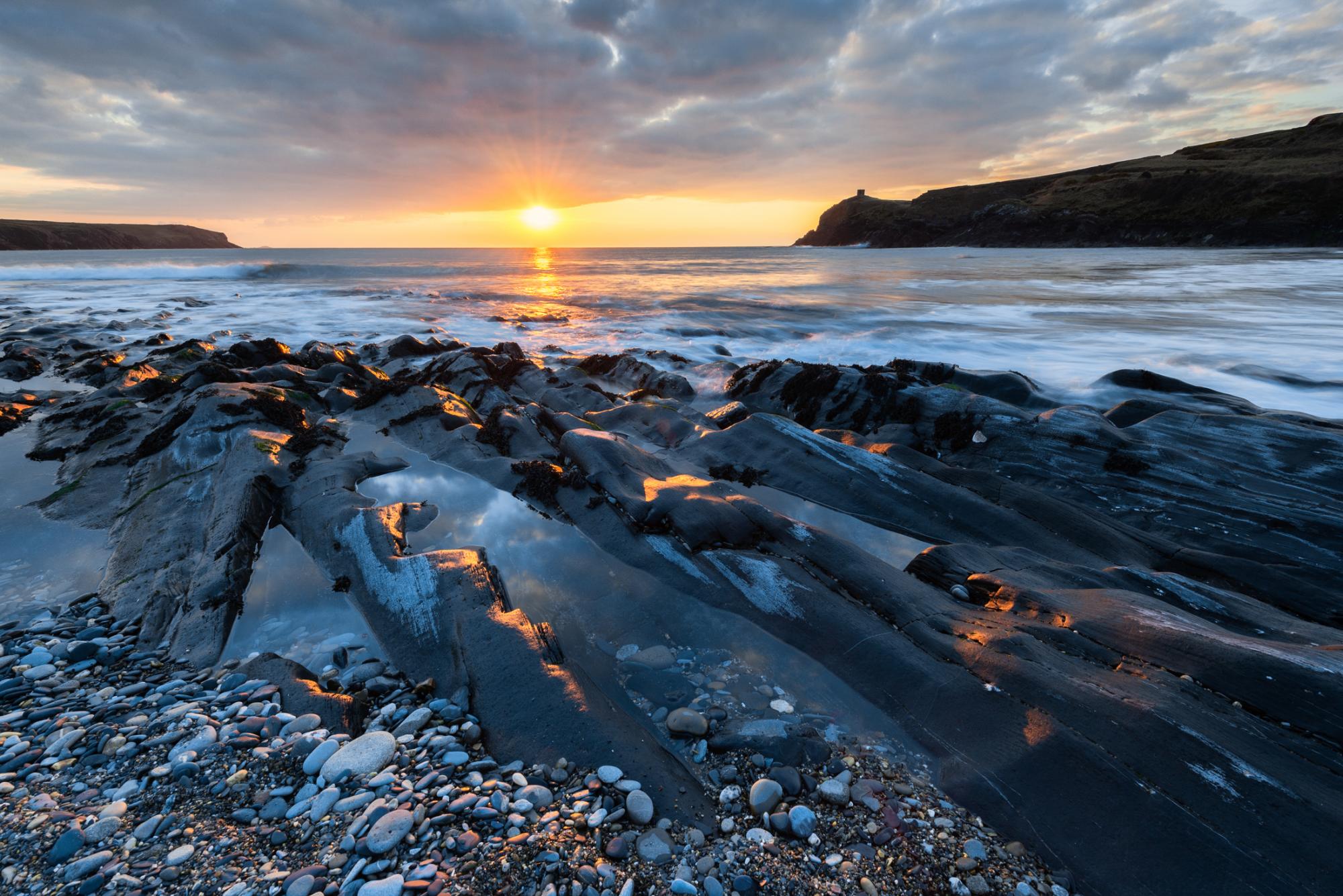 Pembrokeshire used to be called "Gwlad Hud a Lledrith", which means the "Land of Mystery and Enchantment". The landscape is built of wild rugged coast and golden beaches, backed up by rolling hills and low mountains, which certainly lives up to its reputation. It is heaven for walkers, photographers and nature lovers.
My favourite part of the Pembrokeshire Coast Path is Abereiddy Beach, which nestles in a sheltered bay in the northern part of St. David's Peninsula. The beach is lined with colourful pebbles and extraordinarily dark sand made of pounded grey slate.
The real joy is in exploring the coast on foot. Only then will it reveal its beauty and magic. There's a short two-mile walk from Porthgain harbour to Abereiddy, which is considered one of the best stretches along the entire coast path. It's a unique combination of natural beauty and Pembrokeshire's industrial past.
If the tide is low, you can walk down steep steps to a tiny secluded beach at Traeth Llyfn, a lovely peaceful spot where you can linger and enjoy the coast away from other tourists. Elsewhere, the Blue Lagoon is a disused slate quarry that has been reclaimed by the sea.
Once you retrace your steps back to the path, you're rewarded with a spectacular view of Abereiddy Bay. Walk down the zig-zag path to the beach, find yourself a quiet spot to watch the sun go down below the horizon and soak up the last sun rays reflecting on the dark rock ledges. Life doesn't get better than this.
9: Fairy Glen
By Terry Gibbins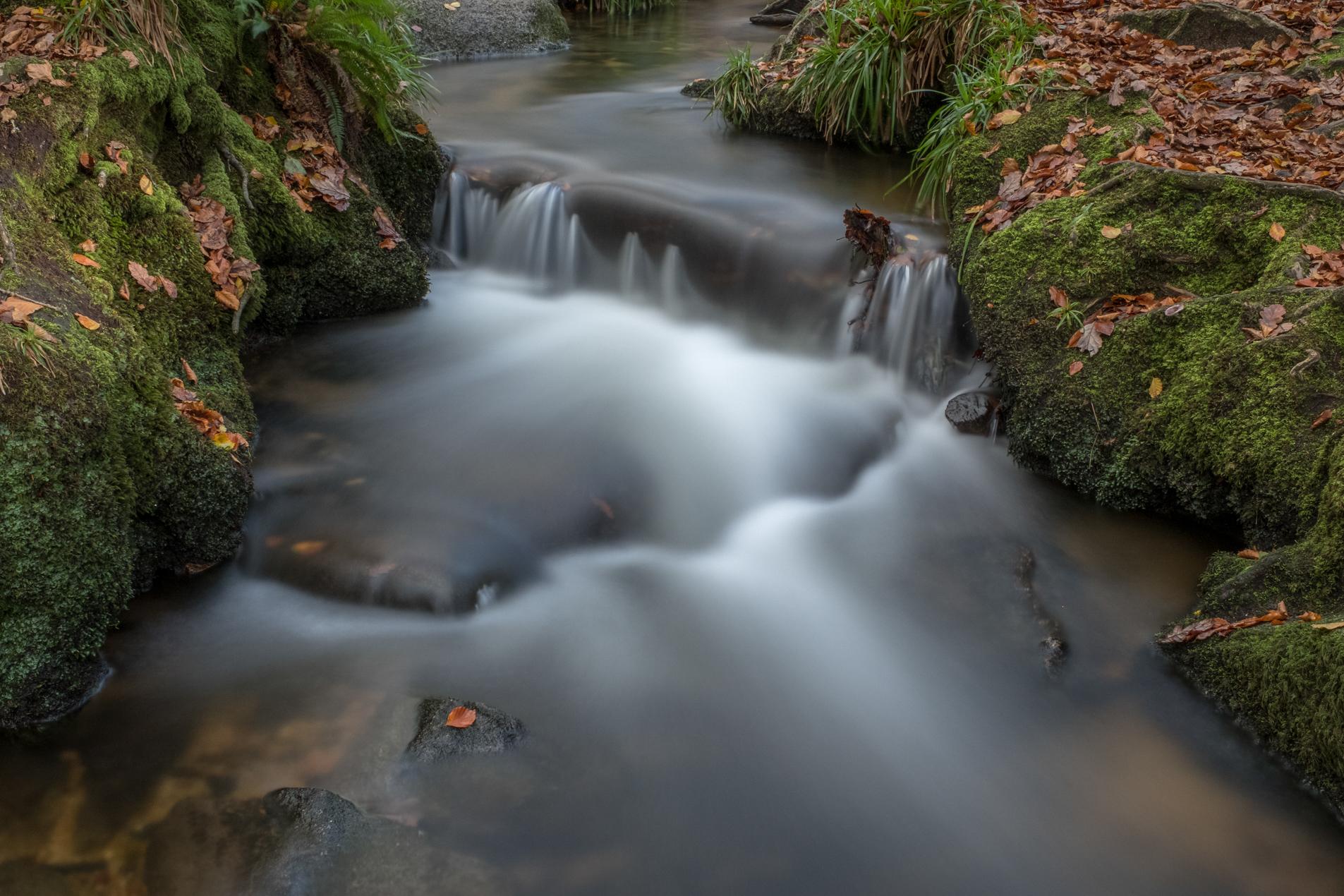 I really like the Fairy Glen and Fairy Pools in Betsy Cwed, Dwarfed by the surrounding mountains and deserted slate quarries, you have this little gorge, a green oasis that seems slightly out of place to its surroundings. It has a real softness and mystical air about it. There must be a reason why it's called the Fairy Pools. It's a popular spot for photographers, and it's easy to see why.
I really like visiting this area and exploring al the little waterfalls, the rapids, cascades, the woods and the secluded gorge.
10: Snowdon
By Nick Hanson (www.nickhanson.co.uk)
My favourite Welsh beauty spot from a photographic point of view is Snowdonia, in particular the walk up to the summit of Snowdon, which can be done as easily or as hard as you like. Most people likely start from the Pen y Pass car park, taking either the easier routes along the Miners Path or Pyg Track, or the harder route along Crib Goch. Whichever way you go, the views of the surrounding landscapes are fantastic for hikes and photographers.
11: Llangasty
By Neil Mansfield (www.landscapesuncovered.com)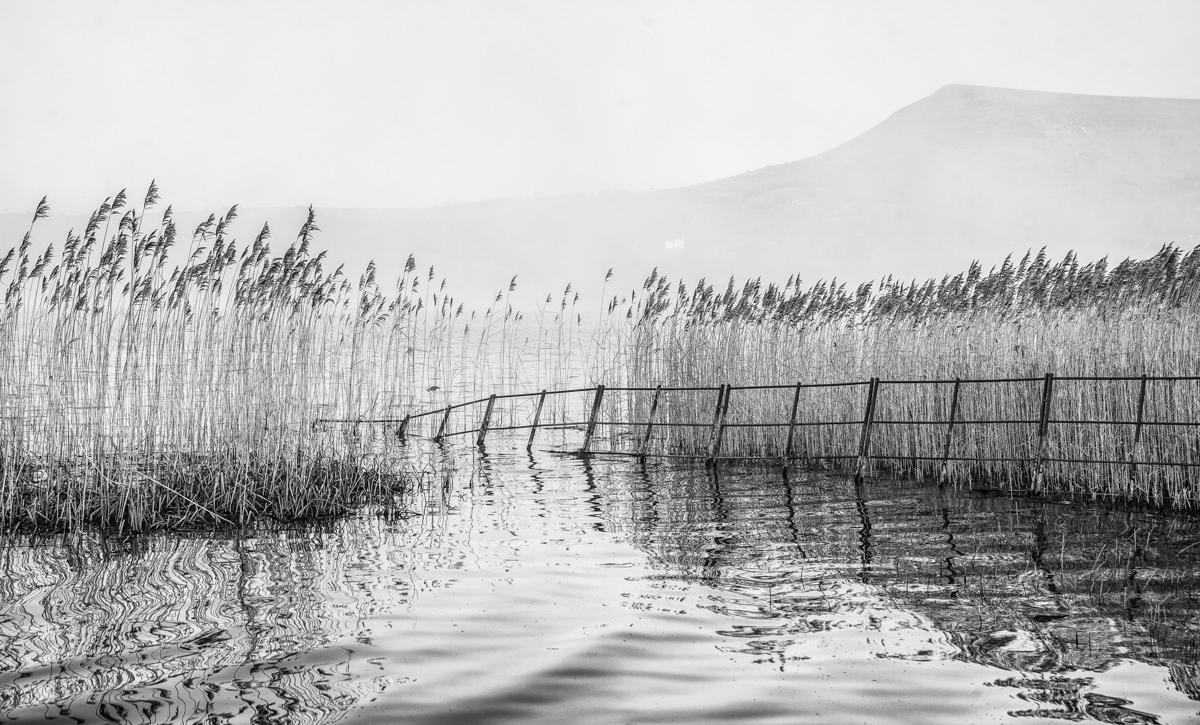 The Brecon Beacons are a wide and varied landscape with mountains, reservoirs, forests and a reservoir or two. But ask me where I'd return time and time again, and the answer is Llangasty.
Llangasty is a tiny hamlet that sits on the southern bank of Llangorse Lake. It's looks north to the magnificent Mynydd Troedd, which is often reflected in the lake. It is a quiet, peaceful place. I highly recommend a bimble along its shoreline.
12: Dunraven Beach
By Susan Brown (www.susanbrownphotography.co.uk)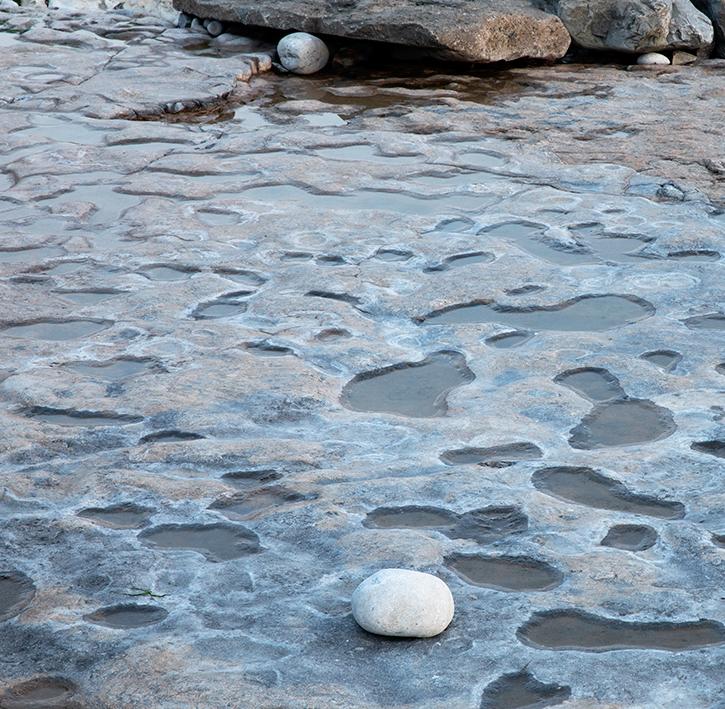 Dunraven Beach, often called Southerndown, is a fascinating part of Glamorgan's 14 mile Heritage Coast. At low tide, there's an expanse of rock pools teeming with sea creatures, fossils, sand, pebbles and limestone.
This location is best visited in the evening on a low tide. Access is easy with a car park overlooking the beach. I would love to have seen it with a stormy sky.
-
Photographers Paul Sanders, Ben Osborne, Charlie Waite, Adrian Beasley, Terry Gibbins and Doug Chinnery lead photography tours and workshops for Light & Land, including Wales, Scotland, England, Ireland and around the world, from Italy to Uzbekistan. See www.lightandland.co.uk/photography-tours.
-
Photos in descending order:
Three Cliffs Bay by Paul Sanders
Creggennan Lakes by Doug Chinnery
Llyn Idwal by Adrian Beasley
Ynys Llanddwyn by Mark Gray
Montgomery Castle by Ben Osborne
Marloes Sands by Drew Buckley
The Mawddach estuary photographed from Cader Idris by Charlie Waite
Abereiddy Beach by Vanda Ralevska
Fairy Pools by Terry Gibbins
Snowdon by Nick Hanson
The White House photographed from Llangasty by Neil Mansfield
Dunraven Beach by Susan Brown